Protests in Tibet: Day by Day Account
The Guardian, March 17, 2008
This article was first published on guardian.co.uk on Monday March 17 2008. It was last updated at 11:17 on March 17 2008.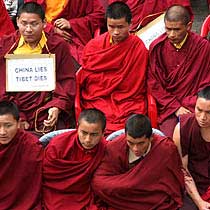 << Exiled Tibetan monks take part in a peaceful protest at Chandmari Monastery in Gangtok on March 17, 2008, in the eastern Indian state of Sikkim which borders Tibet. Security has been tightened at the border of India and China at The Nathula Pass some 60 Kms from Gangtok. Tibet's prime minister-in-exile said that around 100 people have died in unrest in the Chinese-ruled region, while the Tibetan parliament reported hundreds killed.
Getty
Monday March 17
The authorities in Tibet gave people involved in anti-China protests a deadline of midnight to give themselves up, encouraging people to inform on protest organisers. A large buildup of troops is reported in the provinces bordering Nepal.
Sunday March 16
More than 1,000 riot police move in after disturbances around the Longwu temple in Huangnazhou, in Qinghai province, China.
Two hundred Tibetan protesters destroy a police station with petrol bombs as mobs battle riot police in Aba county, Sichuan Province, China. Free Tibet says 13 Tibetans are killed.
Saturday March 15
Riot police lock down the streets. Free Tibet reports that 80 people are shot, but the death toll has yet to be independently confirmed.
Friday March 14
Violence breaks out in the central market near the Jokhang. Protesters set fire to Han Chinese shops, burn vehicles and beat up Chinese police and bystanders. The authorities respond with teargas and watercannon.
Beijing says 10 people are killed, but Tibetan exile groups say dozens of protesters, including 26 outside Drapchi prison, are shot.
A religious ceremony in Xiahe, Gansu province, China, turns into a protest as around 3,000 monks and laypeople march from Labrang monastery to government offices. Police disperse the demonstration using teargas.
Thursday March 13
Monks from the Sera monastery stage a hunger strike. Two reportedly stab themselves in protest. Police arrest about 500 students from Tibet University.
Wednesday March 12
A march by about 100 Tibetan nuns from the Chutsang nunnery, on the west side of Lhasa, is stopped by Chinese police. Monks from the Gaden monastery, around 30 miles east of Lhasa, launch a protest. Police surround and seal off all three of Lhasa's main monasteries - Sera, Drepung and Gaden.
Tuesday March 11
Around 2,000 Chinese troops fire teargas to disperse monks from the Sera monastery who are demanding the release of detained monks.
Monday March 10
Monks in Lhasa begin a small protest on the anniversary of the failed 1959 uprising against Chinese rule. Chanting "Free Tibet" and "Dalai Lama" outside the Jokhang, the holiest temple in Tibetan Buddhism, hundreds of lay Tibetans join them.
Monks from the Drepung and Sera monasteries, on the outskirts of the city, try to march in support, but Chinese police stop them, arresting the suspected ringleaders.