China repairs 400-year-old Tibetan Buddhist monastery
Xinhua, April 18, 2008
XINING, China -- Repair work on Taer Monastery, one of the six best known monasteries of the Yellow Sect of Tibetan Buddhism, was launched on Thursday, the third initiative since 1992.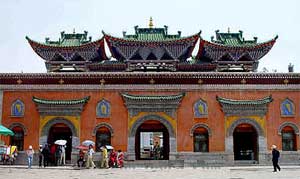 Maintenance and restoration of two major buildings in the 400-year-old monastery in the northwestern province of Qinghai would be completed next year.
However, when to kick off the second stage to repair two other key constructions will depend on the current work progress, according to the project administration office.
China conducted a four-year large-scale repair in the monastery in 1992 at a cost of 37 million yuan (5.3 million U.S. dollars). The second project was launched in 2001 on a main palace, involving more than 30 million yuan.
The new repair has received 25 million yuan from the central government.
"On behalf of all living buddhas and buddhists, I want to express gratitude to the efforts that the government have made in protecting religion and national cultural heritages," said Zungkang, the Lama in charge of the monastery's administration.
Construction of the monastery, 27 kilometers south of the provincial capital Xining, began in 1560 to honor Tson-Khapa, founder of the Yellow Sect of Tibetan Buddhism, and also the mentor of the 1st Panchan Lama and Dalai Lama.
It is noted for the architectural brilliance of its halls and rooms and about 20,000 religious paintings, appliques and yak butter sculptures.
The monastery has undergone various damage in fires, earthquakes, landslides and foundation subsidence in the past four centuries.