Buddhist monk jailed for life over Tibet riots
by Jane Macartney, Reuters, April 30, 2008
Chinese security personnel shield themselves against stones thrown by protesters in Lhasa during riots on March 14
Beijing, China -- Six Buddhist monks are among the first people to be jailed for a riot in which Tibetans rampaged through the capital of the Himalayan region six weeks ago, receiving sentences ranging from life to 15 years in prison.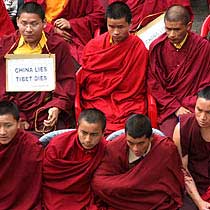 << Exiled Tibetan monks take part in a peaceful protest at Chandmari Monastery in Gangtok on March 17, 2008, in the eastern Indian state of Sikkim which borders Tibet. For their part in the riots, six Buddhist monks receive sentences ranging from life to 15 years in prison.
The Lhasa Intermediate People's Court, in what state media described as an open session, sentenced 30 people to terms ranging from three years to life.
The three people sentenced to life were Basang, a monk from Doilungdeqen county in Lhasa, and Soi'nam Cering, a driver for a property company, and Cering, a 30-year-old businessman from a county outside Lhasa.
The court convicted Basang of leading ten people - including five monks - to destroy a local government office, smash or burn down 11 shops and attack policemen.
Soi'nam Cering, 20, was one of those who burnt vehicles in a square near the Jokhang Monastery in the heart of Lhasa, smashed police stations and fire engines with stones and assaulted firemen. "He was convicted of arson and disrupting public services," the court said. The five monks led by Basang all received jail terms. Two monks were sentenced to 20 years, and three to 15 years.
A third man, identified only as Cering, from Lingzhou county, about 70 kilometres (45 miles) east of Lhasa. He was convicted of inciting others to commit arson and looting shops and vehicles during riots there on March 15 and 16.
The state broadcaster Chinese Central Television said that seven people were sentenced to about 15 years in prison, and the other 20 received sentences of three to 14 years.
The charges included arson, robbery, interruption of law enforcement and theft. More than 200 people, including Buddhist monks, medical workers and "masses from all walks of life" were present in the court to hear the verdicts. The trial is likely to be the first of many.
Hundreds of Tibetans took part in a frenzy of violence in Lhasa on March 14 when four days of peaceful protests by monks from monasteries around the city erupted into rioting against Beijing rule.
Chinese officials say that 22 people were killed, including four security personnel, when Tibetans rampaged through the streets stabbing and stoning ethnic Han Chinese.
The rioters, apparently Tibetans angered at Chinese rule, set fire to seven schools, five hospitals and 120 homes as well as shops and offices. State media said that 908 shops were looted and put the total damage at more than 244 million yuan (£17 million).
Wanted lists showing photographs and video stills of 170 people, including many monks, sought for their part in the violence have been issued by Tibet television. Officials say that several have turned themselves in and others have been arrested. Those involved in the deadliest acts face a maximum penalty of death.
State media have said that as many as 3,000 people have surrendered or been captured after the unrest.