Tibetan lamas pray for quake victims
Xinhua, May 14, 2008
LHASA, Tibet (China) -- About 500 Tibetan lamas attended a Buddhist service at the Drepung Monastery in Lhasa on Wednesday, praying for blessings for the earthquake victims in southwest China's Sichuan Province and other affected regions in the country.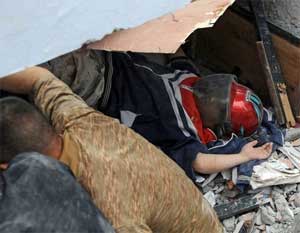 << 40,000 people feared dead or lying buried in China's quake
During the two-hour service at the one of the three leading monasteries in Tibet Autonomous Region, the group of lamas, led by80-year-old Dampa Lungtok, chanted Buddhist scriptures wishing for safety and for no mishaps and disasters.
"I'm very sad to see so many people lose their lives in the earthquake. I pray for the early transmigration of the souls of the deceased," said lama Phuntsok Tharchin.
A donation ceremony was held after the religious service, and lamas of the monastery contributed a total of 38,080 yuan (5,440 U.S. dollars), said lama Awang Tongjug, also director of the Democratic Management Committee of the Drepung Monastery.
"Lamas of the monastery are very worried after they learned via TV and radio reports that a strong earthquake had occurred in Sichuan, so they offered to hold a Buddhist service praying for the victims and making donations to them," he said.
Built in 1416, the Drepung Monastery on the outskirts of the Tibet regional capital of Lhasa, is the largest and most influential monastery of the Gelug Sect, a branch of the Tibetan Buddhism.
It is well known as the site of the annual Yoghurt Festival, with its dramatic unfurling of a giant thangka -- a form of Tibetan painting art that dates back more than 1,000 years -- on the hillside.
The other two leading monasteries in Tibet are the Sera Monastery and Ganden Monastery.
Also Wednesday, about 1,000 lamas at the Taer Monastery, another well-known Gelug Sect monastery in neighboring Qinghai Province, donated more than 110,000 yuan to the people in the quake-hit regions.
They meanwhile started a week-long Buddhist service Wednesday, praying for the victims.
"We sincerely hope the disaster-stricken people can tide over the difficulties soon," said lama Wangden.
China's only monks' red cross is based in the Taer Monastery, 27 km south of the provincial capital Xining.
A 7.8-magnitude earthquake struck Wenchuan County of Sichuan Monday afternoon and it was also felt in most parts of the county.
The death toll across the country has risen to 14,866, the latest government statistics show.
Among those, 14,463 were confirmed dead in Sichuan Province, 280 in Gansu Province, 106 in Shaanxi Province, 14 in Chongqing Municipality, two in Henan Province, one in Yunnan Province and one in Hubei Province.