Religious Boom in China after Quake
Donga-Ilbo, JUNE 10, 2008
Beijing, China -- As religious gatherings for the victims of the Sichuan earthquake are being held in large scales, the Chinese Communist Party is worrying about a possible explosive increase in religious population.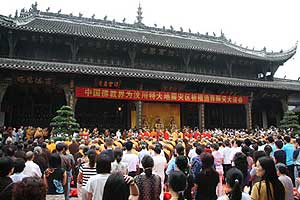 << On May 29, 2008, Buddhist devotees pray for the quake-hit areas at Baoguang Temple in Chengdu.
The party is tolerating such religious events in consideration of public sentiment for now, but is known to be jittery about the possibility of uncontrollable trouble.
The Buddhist Association of China held a large-scale service for those who were killed or displaced by the earthquake on May 14, two days after the disaster occurred, at Guangji Temple in Beijing, and also organized a Sutra-reciting prayer ceremony five days later.
Yonghegong Lama, a Tibetan Buddhist temple in Beijing, also held a prayer service to wish victims an easy passage to eternity.
Lianhe Zaobao, a Singaporean newspaper, reported that all kinds of religious groups, including Buddhists, Catholics, Christians, Muslims and Taoists, are stepping forward and hold large-scale gatherings for the spirits of the victims.
Sense of uncertainty increased the number of believers
The Chinese government has never disclosed statistics on the country's religious population. According to data from China`s state news agency Xinhua and Baidu, China`s most popular search engine, the State Religious Affairs Bureau estimates that there are about 100 million believers.
However, a poll of 4,500 Chinese men and women aged 16 and older conducted by a professor at Huadong Teachers` University in Shanghai in 2005 revealed that the number of believers in the country is estimated to be around 300 million, almost triple the government figure.
Experts say that such an explosive increase in religious population, which stood at just 20 to 30 million before the 1978 market opening of the country, is caused by the increasing number of people feeling a sense of uncertainty about their future in the market economy, different from the planned economy, which had guaranteed basic livelihoods for them. Another reason is believed to be the increasing gap in income and wealth among people.
Furthermore, there are circulating rumors that "a disaster comes on the day that the sum of month and date equals eight, as in the case with the bloody protest for independence of Tibet on March 14 and the Sichuan earthquake on May 12" or that "a massive flood will come next." These rumors are also prompting people worried about their safety to seek religious facilities.
Worries about side effects
China provides the constitutional freedom of religion but has controlled religion in reality, by stipulating, "Religions shall not destroy social order or foreign forces shall not dominate religions."
However, the Chinese government even permitted missionary work by Taiwanese Buddhists so that those displaced from the earthquake can find consolation and prevent their discontentment from spiraling into rage.
But, as those victims increasingly are flocking to religious facilities in the disaster area and religious groups are holding prayer events one after another, Beijing is reportedly agonizing over countermeasures against potential side effects, expressing concern that the spreading religious boom could shake up its ruling structure.
However, a leading researcher at Shanghai University assessed the situation positively, saying, "(The prayer event boom) shows Chinese people's respect for life and openness to religion."