Despite brutal crackdown, Tibet Religious circles make generous donations to quake-battered region
By Phurbu Thinley, Phayul, June 10, 2008
Dharamsala, India -- Keeping aside the scars of Chinese government's crackdown, treatment of Buddhist monks and repression on monastic communities in Tibet, Tibetan Buddhists and local temples in the so called Tibet Autonomous Region (TAR) have donated generously to help quake battered-Sichuan Province.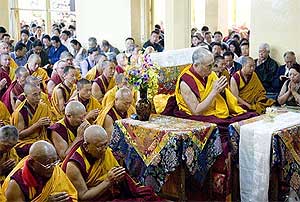 << His Holiness the Dalai Lama, flanked by monks and senior members of the Tibetan Government-in-exile, during a special prayer congregation dedicated for the victims of the May 12 quake in China at the Tsuglagkhang (main temple), Dharamsala, India, Wednesday, June 4, 2008. The day marked the start of the Buddhist Holy month of Saka Dawa (Photo by Tenzin Choejor / OHHDL)
Donations from local temples and religious people of Tibet Autonomous Region have totaled 1.17 million yuan (168,982 U.S. dollars) for quake-battered Sichuan Province, the Chinese state news agency reported Monday.
"Monks also donated individually," the report quoted a Communist official in the region as saying.
Temples in Tibet have also been holding various Buddhist religious services to pray for the dead in the May 12 massive earthquake, according to the state media report.
Donations were received from the Jokhang Temple (100,000 yuan), Ramoche Temple (20,800 yuan), Zhaibung (Tib: Drepung) Monastery (34,000 yuan), Sera monastery (38,000 yuan) and the Gandan Temple (25,000 yuan), the official said.
Monks from these monasteries have been subjected to worst crackdown by Chinese military troops in recent protests against China's rule in Tibet. Protests were first carried out by Drepung monks in the Barkhor area of Lhasa on March 10. Monks from other monasteries, joined by public, also led a series of protests in other parts of Tibet decrying China's rule and lack of religious freedom, and calling for the return of their exiled spiritual leader the Dalai Lama.
Chinese authorities swiftly suppressed the demonstrators using brute force. Many of the monasteries, where these monks belong to, are still known to be under lockdown in the brutal crackdown, which the Tibetan government-in-exile claims has left 203 Tibetans killed and over 1,000 more injured.
The monastic communities in Tibet have been the centre of target with Chinese government reining a tight control over their spiritual affairs. Tibetan Government-in-exile claims that one main target of the China's current policy of repression is Tibetan Buddhism.
The Communist authorities set up "Democratic Management Committees" to control monasteries and nunneries and established "Work Inspection Teams" to supervise the "education" of monks and nuns. These government controls have been heightened following the recent widespread unrest in Tibet.
Outside Tibet, Tibetan exiles and Buddhist heads, including the Tibetan spiritual leader His Holiness the Dalai lama have been offering regular prayers for the victims of the earthquake in Sichuan Province.
Chinese state media reports show the latest death toll from the quake has climbed to 69,142 on Monday. A total of 374,065 people were reportedly injured after the quake jolted Sichuan Province and the neighboring regions.