China's Shaolin Temple kicks off expansion plan
Reuters, December 1, 2008
Beijing, China -- China's birth place of kung fu, the Shaolin Temple, has taken over the management of four Buddhist temples in southwest China in a move criticized by some Internet users for mixing capitalism with religion.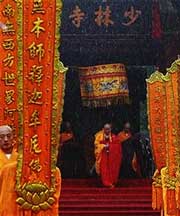 The fabled monastery, based in central Henan province and immortalized in countless martial arts films, had installed 10 monks at the temples in Gudu, a tourist district near Yunnan provincial capital Kunming, local media said on Wednesday.
"The move will help build a bridge between the cultures of Henan and Yunnan and increase the influence of Shaolin," the China Daily quoted Master Yanlu, a Shaolin spokesman, as saying.
Shaolin would retain monks at the temples for 20 years and would help with charity, maintenance and heritage preservation work, Yanlu said.
The temple's energetic head abbot, Shi Yongxin, said Shaolin's "advanced management system" should be rolled out to more temples across China to help promote Zen Buddhism, the paper quoted him as saying in a separate report.
Some Internet users decried the move as a crass attempt to franchise Shaolin's famous brand.
"The Shaolin take-over is just a way of using its fame to cheat more kind people out of their money," one poster on Chinese web portal Sohu.com said.
The Shaolin Temple has become a high-profile commercial entity in recent years, profiting handsomely from millions of tourists, as well as international stage shows and film production.
It opened an online merchandising store on a popular Chinese e-commerce site earlier this year, offering goods including shoes, tea, and kung fu manuals carrying a 9,999 yuan ($1,500) price tag.
The temple was also the driving force behind a local government plan to float shares in tourism assets, Hong Kong media reported last year, but abbot Shi reportedly balked at an IPO for the temple itself.
"To become involved in such a highly risky business is against the spirit of Buddha," Shi was quoted as saying by a Hong Kong newspaper.