Masked dance climaxes Buddhist ritual
By Mu Qian, China Daily, Feb 25, 2009
Beijing, China -- The annual eight-day Dayuan Buddhist Ritual of the Yonghe Temple in Beijing came to its climax Monday afternoon when the buzha dance was performed by the temple's lamas.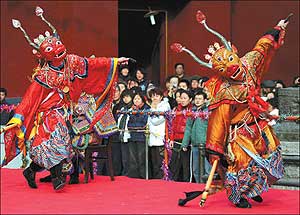 << Lamas perform a traditional Buddhist dance at Yonghe Temple in Beijing yesterday, as part of the celebrations for the Tibetan New Year, which falls today. [China Daily/Xu Jingxing]
The buzha, or cham in Tibetan language, is a masked dance used in Tibetan Buddhism to exorcize devils. Wearing masks of skulls and various demons, the lamas of Yonghe Temple performed buzha to the accompaniment of traditional Tibetan instruments.
At the end of the dance, the lamas walked in a procession with a model of the devil and threw it into a fire, symbolizing the exorcizing of the devil and pacifying of the world. After the ritual, the lamas continue to chant sutras, while people got a small bag of sacrificial fruits and candies before leaving the temple.
"I feel peace inside me after the ritual," said 40-year-old lay Buddhist Tian Feng. "It drives away the evil spirits, and guarantees a peaceful year."
The Dayuan Buddhist Ritual, or "Buddhist Ritual of Great Vows" of the Yonghe Temple, is held every year from the 24th of the first lunar month to the first of the second lunar year, which is today. During the first five days, the lamas chant sutras from morning to evening, while on the seventh day, which is also the last day of the first lunar month, the buzha dance is performed. The administrative department of Yonghe Temple estimates that each year around 3,000 to 4,000 attend the seventh day of the Dayuan Ritual.
"I'm an ethnic Mongolian, and we believe in Tibetan Buddhism. I come to attend the Dayuan Ritual at Yonghe Temple every year, for it can clean away my worries," said Sarula, a female college student.
Today the lamas of Yonghe Temple will chant sutras while circling the temple. This year's Dayuan Buddhist Ritual will end around noon today.
Built in 1694, the Yonghe Temple, or the "Palace of Peace and Harmony", is a temple and monastery of the Geluk School of Tibetan Buddhism. Of the more than 100 lamas in the temple now, most are ethnic Mongolians. There are also lamas of the Tibetan and Tu ethnic groups.