Pilgrims flock to Lhasa
The Hindu, March 11, 2009
LHASA, Tibet (China) -- The holy city of Lhasa was quiet and peaceful on Tuesday, the day marking 50 years of Tibet's democratic reform.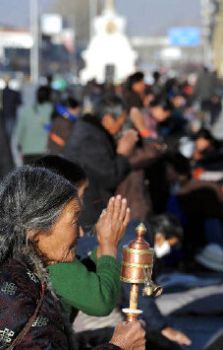 << Rhythm of life: A Tibetan pilgrim prays in front of the Potala Palace during the "grand summons" ceremony in Lhasa on Tuesday.
Pilgrims holding prayer wheels appeared on Lhasa's streets early on the 15th day of the Tibetan New Year and an important occasion for pilgrimages. Office workers hurried to work, some taking along children to be dropped off at school on the way.
The life of the average Tibetan seems unaffected even under close scrutiny by the foreign press on this special date. As usual, taxi and pedicab drivers, mostly migrants from the neighbouring Sichuan Province and central Henan Province, slammed their horns when they saw a potential passenger and Pogor, the famous market street near the Jokhang Temple in central Lhasa, remained busy.Tuesday is the last day of the week-long Buddhist service of Moinlam Quenmo or "summons ceremony" at Lhasa's major monasteries.
The Drepung, Sera and Ganden received on an average 2,000 pilgrims each daily over the past week, said Losang Jigme, Tibet's top official in charge of religious affairs. The pilgrims, some of whom travelled from Tibetan communities in the neighbouring provinces of Sichuan, Qinghai and Gansu, prayed at the monasteries for health and luck.
A group of monks sat in an open space outside the Sera Monastery on the outskirts of Lhasa in the morning, waiting to question the examinees — two middle-aged monks — in a Sutra debate, a ceremony similar to an academic dissertation. Four 20-something young monks, anxious to raise a question, tried to elbow the others out of the way. One of them fell to the ground and caused all the other monks and onlookers to laugh.
Loga laughed too, as he sat on a stone in a quiet corner to take a break. At 85, he is blind in one eye and walks without a stick. "I've been to Sera every day since I was 13," he said in Tibetan dialect.
He wore a cotton-padded traditional costume, with a bright yellow shirt and a hand knitted blue woollen vest underneath.
Guo Haoran watched the Sutra debate with immense interest. "It's a pity I don't understand a word," he said. "There's so much to learn about Tibetan culture and religion." Mr. Guo works for a foreign trade company in the southern boom city of Guangzhou.