Tibet's Potala Palace receives protection boost
By CHRISTOPHER BODEEN, AP, March 12, 2009
BEIJING, China -- China has tightened restrictions on advertising and construction outside Tibet's famed Potala Palace, following calls from the United Nations to better preserve the UNESCO World Heritage Site's natural setting.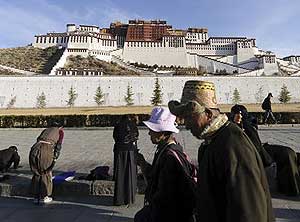 << Tibetans pray in front of the Potala Palace in Lhasa, the capital of Tibet, China on Tuesday, March 10, 2009. Tuesday marks the 50th anniversary of a failed Tibetan uprising against Chinese rule.
The new rules, posted Thursday on the Web site of the official Tibet Daily newspaper, appear amid a ban on foreign tourists in Tibet and tensions over possible anti-government protests to mark the anniversary of last year's massive demonstrations against Chinese rule.
Foreign visitors have also been barred from another UNESCO World Heritage Site, the remote Jiuzhaigou valley, in the volatile Aba prefecture, where dissent continues to simmer.
New regulations for the palace lay out a protected area on all four sides of the massive 350-year-old hillside palace in the regional capital of Lhasa that was the former winter home of Tibet's supreme Buddhist leader, the Dalai Lama.
The rules, which took effect this month, mandate fines of up to 1,000 yuan ($145) and possible legal proceedings for serious violations.
While the rules did not explicitly cite UNESCO, they appeared to take on board concerns over development at the Potala Palace and five other Chinese sites listed at the organization's 2007 conference. Sites can be removed from the prestigious World Heritage List if corrective measures are not taken.
Tibet's tourism industry has suffered massive losses since deadly rioting in Lhasa March 14, 2008 sparked the biggest anti-government demonstrations in western China in decades. The protests appeared to give vent to long-simmering anger over heavy-handed communist policies over culture and religion.
Beijing has sought in recent years to exploit the tourist potential of Tibet's traditional Buddhist culture, while exercising strict controls over religious observance and ceaselessly vilifying the Dalai Lama, who fled into exile in India amid an abortive uprising against Chinese rule but remains broadly popular among ordinary Tibetans.