Famen temple reopens after closure in Northwest China
Xinhua, March 24, 2009
XI'AN, China -- A temple housing one of Buddha's finger bone relics in northwest China's Shaanxi Province has reopened to the public after closing due to discontentment with a wall being built in front of its gate, local authorities said Tuesday.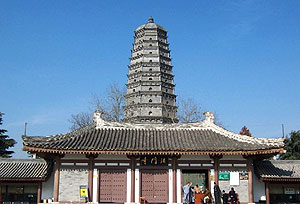 The management of the Famen Temple issued a statement last Friday. It said a construction team for the Famen Temple Cultural Scenic Park built a wall in front of its gate blocking the temple's vehicles and infringing its rights. The temple closed its gate Friday afternoon.
The temple was reopened to the public Saturday.
Workers were building a wall to fence the park and they privately went beyond the planned wall location, and that led to misunderstanding between the developer and the temple management, said Zhang Ninggang, deputy head of the Shaanxi Provincial Administration for Religious Affairs.
"The developer of the park and the temple management have reached an understanding," said Zhang. "The tourism service runs as normal now."
Construction plans were authorized by the provincial government. The park was scheduled to open this May.
Archaeologists found the Buddhist finger bone, together with 2,000 relics, in a 1,000-year-old underground hall in the Famen Temple in 1987. The Sarira, or remains, were confirmed to be the finger bones of Sakyamuni, the founder of Buddhism.
Since then, the temple, 118 kilometers from Xi'an, the provincial capital, has become a holy place for Buddhists from all round the world.
According to the provincial tourism bureau, the temple had received about 10 million visitors over the past 20 years.