Shaolin kung fu may be on World Heritage List
Indo-Asian News Service, March 4, 2005
Zhengzhou, China -- Shaolin kung fu, one of China's ancient martial art forms, may find a place in Unesco's World Intangible Heritage List, says Xinhua.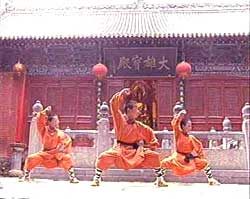 << The world famous Shaolin Temple, destined for the World Intangible Heritage List
An official with the Henan provincial cultural bureau said the listing application was awaiting approval by the Chinese ministry of culture before it is submitted to Unesco.
The Shaolin Temple, built in 495 AD during the rule of the Northern and Southern Dynasties (420-581 AD), and located in the Songshan mountain area in Henan province, is the birthplace of Shaolin kung fu.
Ancient Shaolin transcripts have documented 708 groups of the 1,500-year-old art from of which 545 have survived.
Shi Yongxin, a priest at the Shaolin Temple, said Shaolin kung fu was more than merely a martial art form and served religious and cultural purposes. It could not be separated from Buddhism, he said.
The priest said inclusion on the World Intangible Heritage List would help preserve Shaolin culture.
In a bid to more clearly position Shaolin kung fu within the Buddhist framework and popularise it around the globe, the temple has set up a team of monks who practise and teach the martial art.
It has also established a library with books and audio-visual material about kung fu, an academy for studying Shaolin culture that includes Chinese Buddhism, martial arts, medical sciences and the arts.
The temple has also organised international seminars and created plays and cartoons to tell people about the ancient martial art.
Wang Wenzhang, director of the China Arts Institute, said Shaolin culture was a gem of Chinese culture and should be well protected and further popularised.