Shaolin abbot defends lifestyle
By Echo Wang, Shanghai Daily, Nov 24, 2009
Shanghai, China -- THE abbot of Shaolin Temple, in central China's Henan Province, yesterday fought criticism against him for "leading a material life" by claiming he and his fellow monks only received a monthly allowance of less than 200 yuan (US$29.29).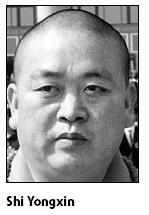 The comments from Shi Yongxin during an online interview with the People's Daily Website were the abbot's first response to a fake letter under his name posted by a hacker on the temple's Website on November 11.
The letter accused him of exploiting the 1,500-year-old temple for commercial gain.
The bogus letter, posted with a picture of the abbot meditating, said Shi was ashamed of destroying the solemnity of Shaolin in exchange for fame and material wealth.
It said Shi accepted blame for the "temple's failure."
Shi, 44, shrugged off the personal attacks in the letter, saying the hacker was only joking with the Buddhists, the temple and the abbot. He said he admired the "online kung fu that overwhelmed Shaolin's legendary defenses."
The first monk in China with a master of business administration degree said his allowance had rarely changed since 1981 when he became a Shaolin monk. His daily food expense rose to 7 yuan from 5 yuan three years ago.
Charity donations
Shi said he led the same life as all the other monks in Shaolin, with a monthly allowance of less than 200 yuan.
He spent most of this on books and Buddhist artifacts.
Buddhists did not care about money and much of their allowance was given to charity, the abbot said.
He said it was necessary to merge Shaolin into the mainstream culture of the world.
That's why he was promoting Shaolin as a "brand" through overseas businesses.
"The hacker's letter is a spur for both me and the temple to do more to expand Shaolin's businesses," Shi said.
"Globalization is the only way that the world can understand Shaolin, a mainstream of Chinese culture."
Shaolin Temple is famous for its influence on Chinese martial arts. It sends monks to Las Vegas and elsewhere to perform kung fu shows.