Abbot appeals for making law in protection of Shaolin Boxing
Xinhua News, March 14, 2005
Beijing, China -- The abbot of Shaolin Temple has urged the Chinese legislature to enact a law to better protect the country's intangible heritage such as the Shaolin kong fu master skills.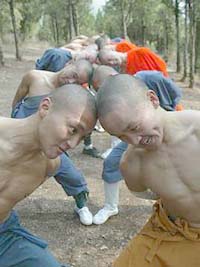 "We have to wake up to the fact that some other nations might have already began to capitalize on our traditional know-how to sharpen their own competitive edge and make profits amid fierce international competitions in a globalized society," said Master Shi Yongxin, abbot of Shaolin Temple and a deputy to the National People's Congress, in an interview with Xinhua on Sunday.
The Buddhist master showed Xinhua reporters a brochure that invites worldwide kong fu fans to Japan for study of Shaolin Boxing. "Want to practice Shaolin kong fu? Come to Japan," it reads, claiming it has registered nearly 400 trademarks of the traditional Chinese martial arts.
"China needs to make a law at an earlier date so that Shaolin kong fu and other intangible heritage is better protected within a legal framework," said Master Shi.
He noted the cream of Shaolin kong fu lies in the Zen of the Chinese Buddhism rather than martial arts alone and Shaolin Temple values the study of the religious and cultural functions of Shaolin kung fu.
An official with the Henan Provincial Cultural Bureau confirmed earlier this month that preparations have begun for Shaolin kung fu's application to be inscribed on the World Intangible Heritage list of the United Nations Educational, Scientific and Cultural Organization.
Shaolin Temple, built in 495 in the period of the Northern and Southern Dynasties (420-581) and located in Songshan Mountain in central Henan Province, is the sacred birthplace of the Shaolin kung fu.