Dalai Lama calls for sense
News24, March 14, 2005
Beijing, China -- The Dalai Lama defended his moderate approach to Beijing's communist government while calling on China to use common sense and allow him back into the country in comments published Monday.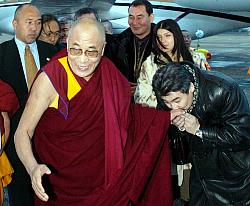 The Tibetan spiritual leader, in an interview with the South China Morning Post, also reiterated that he is not seeking Tibet's independence from China.
"This is the message I wish to deliver to China. I am not in favour of separation," he said. "Tibet is a part of the People's Republic of China. It is an autonomous region of the People's Republic of China.
"Tibetan culture and Buddhism are part of Chinese culture. Many young Chinese like Tibetan culture as a tradition of China."
Beijing frequently accuses him of separatism and demands he definitively give up aspirations for independence and recognise Taiwan as part of China.
His supporters have long accused Beijing of trying to wipe out Tibet's Buddhist-based culture through political and religious repression.
"As the material development of China moves forward we gain materially, like the (Qinghai to Lhasa) railway. If we were a separate country it would be very difficult and we would not benefit," he said in explaining his reasoning.
The Tibetan government-in-exile in Dharamsala, India, has many factions and while moderates seek a solution and accommodation with Beijing, radicals oppose compromise.
The Dalai Lama defended his moderate approach, saying it was in the best interests of Tibetans.
"The Tibetan youth organisation criticises me as taking this approach out of desperation," he said. "No, it comes out of a broader interest."
And he called on authorities in Beijing to allow him back into the country, saying his presence could be mutually beneficial.
"They find it easier to accept (Buddhism) rather than western religions like Christianity. With Buddhism in the spiritual field we can help with internal values, while the Chinese provide external values, and both will have mutual benefit," he said.
"It is in China's interest," he added when asked if he should be allowed to visit the country.
"As long as I am there I can make Tibetans calm. If I am not there, I do not know what will come. The Chinese government should use common sense rationally, not look at things with narrow perspective."
Direct ties between the Dalai Lama and Beijing collapsed in 1993 and were renewed only in 2002.