70,000 Buddhists gather to celebrate Tibetan festival
Xinhua, Feb 10, 2010
LHASA, Tibet (China) -- At least 70,000 Tibetan Buddhists gathered at a monastery in Lhasa Wednesday to celebrate a religious holiday and pray for good luck in the Tibetan New Year that begins Sunday.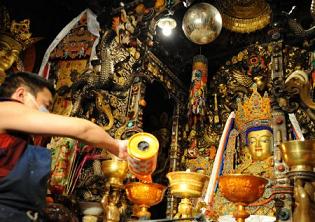 Tsering Namgyal, 75, edged along in the queue outside the Sera Monastery in the suburbs of Lhasa at 5 am, leaning against a walking stick and waiting for his turn to be blessed.
The annual "Sera Bengqin Festival" is an important religious event celebrated four days before the Tibetan New Year. It is held exclusively at Sera Monastery, one of the three leading monasteries in Lhasa alongside Drepung and Ganden.
On this date, devout Buddhists are touched on the head by the Khenpo (president) of the Ngaba Zhacang (one of the three Buddhist schools in the monastery) with the Dorje Pestle, a legendary Buddhist instrument from India that is believed to transfer the Buddha's power and support to the faithful.
The crowd of Buddhists also presented hada, a traditional white scarf, and petty sums of alm and prayed in front of a Thangka portrait of the "horse-headed king," one of the most important heritage pieces housed at Sera Monastery.
The annual event lasts for 24 hours starting from 1 am Wednesday. It has drawn Tibetan Buddhists from across the Tibet Autonomous Region, as well as Tibetan communities in the western provinces of Qinghai, Sichuan and Yunnan.
Tsering Namgyal traveled from Xigaze to attend the event. "It can ward off disasters in the new year," he said.
The Year of Iron Tiger in the Tibetan calendar begins on February 14 this year it starts on exactly the same date as Chinese Lunar New Year's Day. The coincidence has happened 18 times since 1950, according to experts of astrology and Tibetan calendar calculations.