Chinese curbs on quake relief by monks
by B. Raman, Sri Lanka Guardian, April 22, 2010
Qinghai, China -- Worried over nearly 10,000 Buddhist monks and nuns from the Tibet Autonomous Region, Sichuan and other neighboiuring areas rushing to the quake-hit Yushu area in the Western Qinghai province to organise rescue and relief work independently of the Government and the Chinese Red Cross, the Ministry of Public Security in the Qinghai province has imposed restrictions on rescue and relief work by monks and nuns.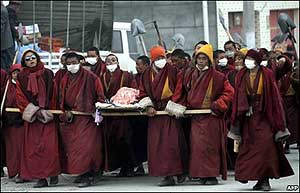 << Large numbers of monks travelled to Yushu to help with th]e relief efforts
Under these restrictions, all those who had gone to the quake-hit area from outside the Yushu region have been ordered to go back to their areas.
All monasteries have been told that only monks and nuns belonging to monasteries located in the Yushu area can participate in the rescue and relief work. Others have been banned from participating.
Initially, the Chinese did not try to prevent monks and nuns from the neighbouring areas from going to Yushu to organise rescue and relief work. According to reliable sources from the Yushu area, the Chinese became nervous and imposed the curbs when a monk publicly refused to shake hands with President Hu Jintao and hundreds of monks and nuns took out a candle light procession to pay homage to those killed.
The police were taken aback when the processionists shouted slogans that His Holiness the Dalai Lama should be allowed to visit his home province to console his people in distress. It has been reported that the Chinese are also worried over the campaign mounted by Tibetan exiles in Western countries to demand that their host Governments should exercise pressure on Beijing to allow His Holiness to visit the quake-hit areas.
-----------
The writer is Additional Secretary (retd), Cabinet Secretariat, Govt. of India, New Delhi, and, presently, Director, Institute For Topical Studies, Chennai. He is also associated with the Chennai Centre For China Srudies.