World-famed tower in east China to enshrine Buddha remains
Xinhua, Aug 13, 2010
NANJING, China -- An ancient Buddhist tower in east China's Jiangsu Province, which was a world wonder during the medieval ages, will enshrine part of the skull bone of Sakyamuni, the founder of Buddhism.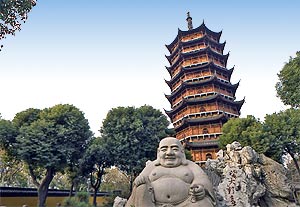 The Buddha's remains, or sarira, would be worshipped in the tower after workers rebuild the tower by the end of 2011, said Kong Li, an official with the city government of Nanjing on Thursday.
The rebuilding work is to begin at the tower's original site this year, more than 150 years after it was destroyed. A ruins park would also be built at the same location, said the official.
He did not reveal the budget for the project.
The Porcelain Tower of Nanjing, also known as "Bao'en Temple", which means "Temple of Gratitude", was ranked one of the Seven Wonders of the World during medieval times.
The tower was first built during the reign of Chinese Emperor Yong Le (1403-1425) in the Ming Dynasty for his mother. But it was completely destroyed during the war between the Qing Imperial Court and the Taiping rebels in 1856.
According to historical records, the construction of the nine-story, 78-meter-tall tower took nearly 20 years, using 100,000 workers. The tower was octagonal in shape with 97 feet in diameter, covered with white and shining porcelain bricks interlaid with colorful bricks and stones.
The holy remains to be enshrined in the Porcelain Tower were unveiled in June this year. Uncovered from an underground chamber of the Porcelain Tower, the sarira is now enshrined in Qixia Temple in Nanjing.
It is said that 2,500 years ago, Sakyamuni's disciples recovered one skull bone, four teeth, two collar bones and 84,000 particles of relics from the cremation pyre of Sakyamuni.
"Among these relics, the skull bone is highly sacred for Buddhists," said Master Xue Cheng, vice president of the Buddhist Association of China.
The skull bone of Sakyamuni was brought to China as tribute by Danapala, an eminent monk from India, during the Northern Song Dynasty (960-1127 A.D.), said Hua Guorong, deputy head of Nanjing City Museum.