Dalai Lama's visit shines spotlight on Mongolia's explosion of faiths
AP, Aug 27, 2006
ULAN BATOR, Mongolia (AP) — The Dalai Lama, Mongolia's most revered religious figure, is visiting this week, but some here sway with religious fervor for another stripe of holy man.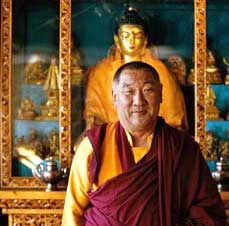 << The abbot of Ulan Bator's main monstery, Gandan Monastery, Khamba Lama, Choijamts says Christian group showboat and create a culture of dependency through soup kitchens and other forms of social outreach.
"Hallelujah," a crowd shouts at a stage where Canadian evangelist Peter Yongren is calling out, "Jesus will come to you tonight," echoed in Mongolian by a translator.
There isn't a lama or dharma wheel in sight.
"Certainly Tibetan Buddhism is part of our culture, but it shouldn't be our religion," said Tsendkhorol, 53, a retired actress wearing a pink T-shirt emblazoned with the English message "Thy kingdom come." Like many Mongolians, she uses only a single name.
Mongolia's capital is hosting not only the Dalai Lama and Yongren this week, but also Indian guru Sri Sri Ravi Shankar, underscoring the explosion of faiths this nation has seen since the end of communist rule in 1990.
The Mormon church has its own temple and missionaries, and Hindu and Muslim groups are expanding.
While only a small minority seems to have taken up new faiths, the increasingly crowded market of religions is posing a challenge to the traditional authority of Buddhist monks, already crippled by six decades of communist persecution and riven with internal divisions.
Mongolia has a long tradition of religious tolerance and respect. Even while Mongol armies were sacking and looting their way across Asia and Europe in the Middle Ages, their leaders allowed Christians, Buddhists, Muslims and others to freely proselytize throughout conquered regions.
"It's really not so bad to have lots of types of religion operating here," said D. Damba, a professor of Mongolian language, literature and religion at Mongolian State University.
"It's helpful for us to better know one another and it teaches respect, not hatred," Damba said.
Tibetan Buddhism was adopted as Mongolia's de facto state religion in the 17th century and thrived for three centuries, until communist dictator Horloogiyn Choybalsan's purges beginning in 1937 killed more than 10,000 monks. By 1944, Ulan Bator's main monastery, Gandantegcheling, was the only official Buddhist institution left functioning.
Today, new monasteries have risen across the capital and the rest of this landlocked country.
Yet the Buddhist groups recognize no common high authority within Mongolia, and internal squabbles are common, even during the Dalai Lama's visit to Gandantegcheling.
Left off the guest list and barred at the gate, Sanjdorj Zandan, the abbot of Ikh Khree Monastery, startled the visiting Dalai Lama by shouting, "We could have organized this much better!"
Monks also are in conflict over who may marry and have a family. While Buddhism in Mongolia permits initiate lamas to marry, many of those higher up in the church also have children in defiance of tradition. The Dalai Lama has spent much of his time in Ulan Bator trying to resolve such disputes.
So far, only about 10,000 of Mongolia's 2.6 million people have joined Christian groups.
Yet perhaps a bigger threat to the lamas comes from simple indifference. Many among Mongolia's increasingly urban young people see Tibetan Buddhism as unapproachable and medieval, with little relation to their own lives and aspirations.
Gandantegcheling's abbot, Choijamts, says believers are addressing those concerns by translating more of the faith's texts into Mongolian and by starting Buddhist youth groups.
He accuses Christian groups of showboating and creating a culture of dependency through soup kitchens and other forms of social outreach.
"We Buddhists also help the poor and needy, but we do it in private and away from the media," Choijamts said in a television interview Monday night as the Dalai Lama arrived.
Many people at the Dalai Lama's public appearances are elderly men and women in traditional dress, while the crowd at Yongren's rally was mostly young and dressed in western sports wear.
Among them was Shinegorav, a 28-year-old pastor who said a foreign missionary introduced him to Christianity a decade ago.
"It just felt very different from Buddhism. It was very friendly in the church and I could read the Bible in Mongolian," Shinegorav said.
As for the Dalai Lama? "He's just a man," said Shinegorav. "I really don't have too much to say about him."