Famous Indian environmentalist visits Taiwan
by Chen Shun-hsieh and Sofia Wu, Central News Agency, Nov 19, 2011
Taipei, Taiwan -- The 12th Gyalwang Drukpa, a respected Indian environmentalist and educator, said in Taipei Saturday that he hopes his current visit will help lead more Taiwanese to dedicate themselves to environmental protection in their daily lives.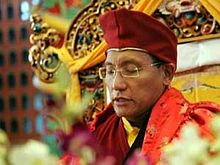 The spiritual head of the Drukpa Lineage, one of the main Buddhist schools of the Himalayas, arrived in Taipei Friday in the company of 108 nuns for a "journey of concern" aimed at promoting environmental consciousness and preservation.
The Gyalwang Drukpa was one of the five recipients of the 2010 Greenies eco awards, considered the biggest environmental award in India. He has also launched numerous green initiatives in India through his charitable foundation called "Live to Love." The organization comprises volunteers from around the world, including non-Buddhists.
Taiwan is the third leg of his current global environmental awareness campaign that has already taken him to Thailand and Vietnam. The Gyalwang Drukpa held talks with media celebrity Sisy Chen and Lin Yao-kuo, honorary president of the Society of Wilderness, Saturday on environmental protection and education.
The Indian environmentalist said his core philosophy is to convert compassion into action and to create concrete solutions for problems in everday lives. In addition to promoting harmony between the environment and mankind, he said, harmony among human beings is equally important.
Noting that pushing gender equality is one of his main tasks, the Buddhist sect leader said he has picked nuns to accompany him on his current campaign to highlight his opposition to gender discrimination.
Chen said she most admired the Indian green hero's ability to use simple ways to spearhead environmental projects and education initiatives, such as leading his followers to clean up Himalayan mountain regions by walking. Lin shared Chen's view, saying the Indian spiritual leader's work to "green" the world through tree-planting was worth emulating in Taiwan as the island is facing an increasing threat from climate change and extreme weather.
The Gyalwang Drukpa recently organized an event that broke the Guinness World Records for most trees planted simultaneously. On Oct. 10, 2010 at 10:10:10, 9,313 people came together on a site near the famed Hemis Monastery in Ladakh in northern India and planted 50,033 in 33 minutes 25 seconds.
He is also planning to plant over 2 million trees throughout the Himalayan region and India in an effort to improve air quality as well as stabilize the soil and prevent mudslides.