Buddhist master writes letter to Xi
By Loa Iok-sin, Taipei Times, Dec 8, 2014
Taipei, Taiwan -- Buddhist Master Shih Chao-hwei has written an open letter to Chinese President Xi Jinping urging the release of Buddhist Master Shi Shengguan, a Chinese citizen, who was arrested in May in China and has been in detention since then.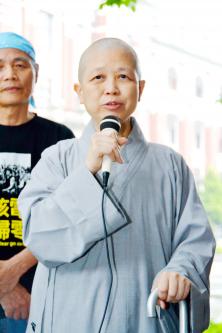 Shi Shengguan, a democracy activist before becoming a monk, had been promoting a peaceful democratic transformation in China, while also practicing as a monk, when he was arrested after a Dharma teaching session in Wuhan on May 17 and charged with "inciting subversion of state power."
Following his arrest, Shi Shengguan's student, Shi Guoshi, has been trying every thing possible to rescue her teacher, going as far as traveling to Taiwan to meet with Buddhist leaders, seeking their help. Shih, founding president of Life Conservationist Soceity is one of the local Bhuddist leaders who reopened the nun's appeal.
"I am writing to ask that you, based on justice, show care for the brave Buddhist monk Shi Shengguan and allow him to be released from detention as soon as possible," Shih wrote in the letter.
"He has been detained for over half a year by the police, yet the charges against him were rejected by the prosecutor, who returned the case back to the police," she wrote.
Shih said that according to her source, Shi Shengguan was arrested by mistake, but the police ignored this fact, and tried to have him indicted, but the prosecutor rejected the case.
"It is actually good news, showing that the judiciary in China reviewed the case on the principle of innocent until proven guilty and the prosecutor knows that the charges against Shi Shengguan were incorrect, and there was no evidence to support charges of inciting subversion of state power," she said.
However, she added that, it seems the police are unwilling to admit the mistake, and have kept Shi Shengguan in prison for more than six months now.
"I hereby urge the [Chinese] Ministry of Public Security to handle the case justly and cautiously, and refrain from pressing false charges against him to save face," she wrote.