Buddhist Grand Master Wei Chueh dies
CNA, April 9, 2016
Taipei, Taiwan -- Buddhist Grand Master Wei Chueh, who founded the Chung Tai Chan Monastery in Nantou County's Puli Township, passed away at 10:31pm on Friday night, the monastery announced yesterday. He was 88.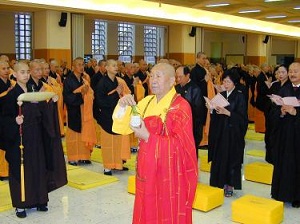 The grand master's death was caused by a regression of marrow regeneration, which resulted in complications, the monastery said.
The monastery was closed yesterday, shutting out buses carrying Chinese tourists.
It plans to have a scripture reciting assembly from tomorrow until Sunday next week in remembrance of the grand master.
Born in Sichuan, China, in 1928, Wei Chueh was one of the most important religious figures in Taiwan in recent decades, with more than 1,000 monk disciples and hundreds of thousands of followers.
He was credited with preaching Zen Buddhism and reviving Chinese Zen Buddhism.
He became a monk in 1963, following Zen master Lin Yuan in Keelung's Shifang Dajue Chan Temple.
Wei Chueh woke at 2am every day when other monks were still asleep to clean up the temple and would salute Buddha at the main hall when other monks were taking noon naps.
He later conducted a retreat in temples in Yilan, Hsinchu and Hong Kong before settling in a cottage in New Taipei City's Wanli District.
Firm in belief and living an extremely simple life, he answered the public call to preach and built Lin Chuan Temple beside his cottage in 1987.
His way of preaching was said to be lively and flexible and had no fixed mode.
He used the seven-day Zen retreat and dharma assembly as a way to disseminate Zen teachings, and was said to have contributed to a clean society campaign.
However, due to his growing number of followers, he began to plan the Chung Tai Chan Monastery in Puli, which was inaugurated in 2001.
To nurture the young generation, he also set up an elementary school in 2004, a junior-high school in 2006 and a senior-high school in 2009.
He also constructed the Chung Tai World Museum to showcase Buddhist artifacts and rubbings from inscriptions on stone tablets donated by the Forest of Stone Steles Museum in Xian, China.
Ling Jiou Mountain, another Zen Buddhist society, extended its condolences over Wei Chueh's death yesterday, saying that the Chung Tai Chan Monastery has contributed to religious exchanges between the two sides of the Taiwan Strait, and helped Chinese access and learn Buddhism.
However, Wei Chueh was not without his critics.
First, some people were not happy with his decision to build the Chung Tai Chan Monastery in a rural area, prompting controversy around land development.
Second, after attending a Buddhism camp at the monastery in 1996, scores of female college students shaved their heads to become nuns. The students' new looks shocked their parents, with some filing complaints with the Nantou Prosecutors' Office against Wei Chueh.
However, what was most controversial about him was his political stance.
In contrast with the public perception that a religious figure should keep away from politics, he was a staunch supporter of the Chinese Nationalist Party (KMT) and openly endorsed President Ma Ying-jeou during the 2012 presidential election.
Wei Chueh's health had deteriorated over the past few months. His last public appearance was on Jan. 17.