Tzu Chi Foundation marks 40th anniversary in Taiwan, around globe
The China Post, May 15, 2006
Taipei, Taiwan -- The Buddhist Compassionate Relief Tzu Chi Foundation -- Taiwan's largest charity organization -- yesterday celebrated its 40th anniversary with various activities in both Taiwan and more than 20 other countries.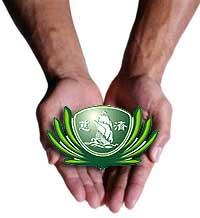 Tzu Chi's anniversary coincides with Mother's Day each year, as its founder Master Cheng Yen set Mother's Day as the common Tzu Chi Day globally during its 30th anniversary. This year the foundation's anniversary came a week after Sakyamuni Buddha's Birthday May 7.
U.N. Secretary-General Kofi Anna sent a congratulatory message to Tzu Chi's Dharma Master Cheng Yen, while 12 cities in six states of the United States proclaimed May 14 as "International Tzu Chi Day."
Tzu Chi's main shrine in Hualien County and the foundation's local chapters throughout Taiwan invited members of the public to join them at more than 60 locations in various forms of celebration, including Buddha-bathing ceremonies and exhibitions.
At Tzu Chi's main shrine, Master Cheng Yen, who established the foundation in 1966, led a long queue of Buddhist followers to worship the Buddha by paying homage to a giant Buddha statue, surrounded by 16 smaller Buddha statues. She also led them to pray for peace and prosperity for the people of Taiwan and elsewhere in the world.
Master Cheng Yen urged people seeking the Dharma not only to be respectful to the Buddha but also to keep a pure heart.
She cited 16 Chinese characters from "The Sutra of Innumerable Meanings" as the motto that all Tzu Chi members have followed in the past 40 years.
The passage, describing the state of mind of "Bodhisattvas" (enlightened Buddhists worthy of nirvana who postpone it to help others) says: "With tranquil minds and constantly in contemplation, they are peaceful, indifferent, non-active, and free from desires. They are immune from any kind of delusion or distraction. Their minds are calm and clear, profound and infinite. They remain in this state for hundreds of thousands of kotis of kalpas."
Tzu Chi Foundation, which began its charitable operations in an impoverished community in eastern Taiwan, has become an international organization with more than 5 million supporters and 30,000 certified volunteer coordinators all over the world. It has a total of over 200 liaison offices around the world. At least 61 countries in five continents, including Europe, America, Asia, Africa and Oceania, have received relief aid from Tzu Chi.
Tzu Chi Foundation started to extend its relief abroad in 1985 through its overseas Chinese supporters.
The foundation was certified by the United Nations as a NGO (non-government organization) on Dec. 22, 2003.