Buddhist temple fitted out with QSC
by Jim Evans, LSI Online, May 13, 2008
Kaohsiung, Taiwan -- A new temple at the headquarters of one of Taiwan's most famous Buddhist monasteries - Fo Guang Shan in Kaohsiung - has been fitted with a complete QSC Audio system solution - right through the signal chain.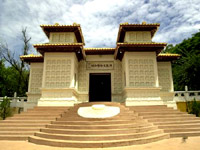 FGS is the largest Buddhist monastery in Taiwan, with branches throughout the world. Founded in 1967 by the Ven. Master Hsing Yun, it set the bar high when specifying its requirement for both speech and musical applications. The sound needed to be pure and transparent - without colouration.
To achieve this objective, the project's main contractor, Session Audio Research, had favoured a complete one stop solution - with processor, amplifiers and loudspeakers all coming from the same manufacturer; they reached the conclusion that QSC provided the best option in terms of both performance and reliability, and specified an Installation Line Array (ILA) as the main sound reinforcement source.
Taking feeds from an assortment of line and mic devices - including hard disk, CD, DVD and an HD camera - ILA also had to be discreet due to the strict requirement of the interior.
Under the supervision of Eddy Huang, Session Audio Research's managing director, 12 x WL2082-I enclosures (and four WL-115sw subs) have been flown in two hangs inside the new 500-capacity temple. Producing 140°of horizontal coverage these seldom require additional side or centre- fills, and solid stereo imaging is preserved across the listening area. These are reinforced by 14 x ISIS I-821H enclosures in the auditorium, with a further 14 x I-282H in other rooms in the facility.
Offering an advanced linear amplifier platform QSC Audio's new PL3 series (PL325) was assigned to the main system, with the ISIS speakers powered by a combination of ISA and RMX series amplification.
The system is processed using QSC Audio's dedicated SC28 2-in/8-out digital system controller. Summing up the installation, Alan Chang, QSC Audio's Asia sales manager, said, "The new system needed to demonstrate versatility as well as clarity - and it has effortlessly fulfilled the requirements." All QSC Audio components were supplied by ProSound Inc, the company's exclusive Taiwanese distributors.