Taiwan president rules out Dalai Lama visit
Monster & Critics, Dec 3, 2008
Taipei, Taiwan -- Taiwan President Ma Ying-jeou on Wednesday ruled out a planned visit next year by Tibet's exiled spiritual leader, the Dalai Lama.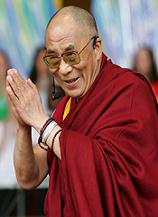 'The Dalai Lama has visited Taiwan twice, and we generally welcome all religious leaders to visit, but at the current moment, the timing isn't appropriate for that,' he told foreign media in Taipei.
He declined to say when the visit might be welcomed, but political observers said Ma was apparently reluctant to displease China by hosting the Dalai Lama as cross-strait relations have improved.
The Dalai's representative to Taipei, Dawa Tsering, said the Dalai Lama would not be disturbed by Ma's statement because currently he has no plans to visit Taiwan.
'His attitude is 'the guest respects the host's arrangement.' Currently the Dalai Lama has no plan to visit Taiwan, so there is no problem,' he told Deutsche Presse-Agentur dpa, quoting an old Chinese proverb.
In what would be his first visit in seven years and an apparent reversal of a policy of avoiding the island for fear of angering China, last week the Dalai Lama told Elta TV in the northern Indian hill station of Dharamsala that he hoped to visit Taiwan in 2009.
Taipei resumed talks with Beijing in June after Ma of the China- friendly Chinese Nationalist Party took office in May and adopted a policy to engage the mainland.
The Dalai Lama visited Taiwan in 1997 and 2001 to give Buddhist lectures and meet with former president Lee Teng-hui and then president Chen Shui-bian. China accused him of collaborating with Taiwan to sever Tibet and Taiwan from China.
The Dalai Lama opened a representative office in Taipei in 1998, called the Tibet Religious Foundation of His Holiness The Dalai Lama, one of the 11 representative offices of the Dalai Lama around the world.
The other representative offices are in New Delhi, Kathmandu, New York, London, Paris, Geneva, Moscow, Canberra, Pretoria and Tokyo.
China claims both Tibet and Taiwan as integral parts of its territory and has warned foreign leaders not to receive the Dalai Lama, blasting him as a 'splittist' wearing a religious cloak.