Buddhist charity offers tips on how to cope with financial crisis
By Maubo Chang, Central News Agency, Apr 20, 2009
Taipei, Taiwan -- A local Buddhist charity, the Tzu Chi Foundation, has been offering some tips on how people can cope on an everyday basis with the effects of the financial crisis that has gripped the world.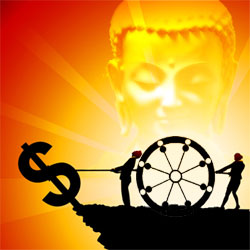 As part of its 43rd founding anniversary celebrations, the foundation launched an exhibition Sunday in Taipei to give details on how people can save money by living simply.
First, the foundation recommended that people use less of everything, starting with plastic bags and disposable tableware.
It suggested that shoppers carry their own bags rather than buying plastic bags and that consumers take along their own cups to buy drinks rather than using disposable cups.
Living simply also means refraining from buying luxury items, such as cosmetics and designer products, the charity said.
The foundation called on people to use cheap endurable handbags instead of expensive designer brands, and to buy functional mobile phones rather than fancy ones.
Noting that Taiwan sells more than 7 million mobile phones a year domestically, the foundation suggested the public learn to use their cell phones properly and not to discard them if they are still usable.
"When you do have to replace them, remember to turn them in to a recycling station," the foundation said, adding that less them 20 percent of used mobile phones in Taiwan are recycled.
Citing statistics compiled by a foreign environmental group, the foundation said if each mobile phone user worldwide hands over one phone for recycling, this can save 2,400,000 tons of raw materials and cut carbon dioxide emissions by a volume equivalent to that produced by 4 million cars. The volume of raw materials saved will be more significant if mobile phone appliances such batteries, battery chargers, wireless earphones, and packing materials are also recycled, said the foundation.
Living more simply would not compromise the quality of life, as it does not cost much to live happily, and people would not be deprived of their pleasure if that pleasure is derived from activities such as gardening, hiking, sports, reading, voluntary service, and arts appreciation, said the foundation.
In order to convince the general public that they can live simply and save money, the exhibition also includes several practical examples.
The exhibition was staged at the foundation's seven offices in downtown Taipei. More information can be found at the charity's Web site at www.tzuchi.org.tw.