Fo Guang Shan Mobile Clinics rush to provide aid to typhoon Morakot victims
Life News Agency, 14 Aug 2009
Kaoshiung, Taiwan -- Washed-out roads and mudslides caused by Typhoon Morakot have cut off food and medical resources from mountain villagers in Southern Taiwan.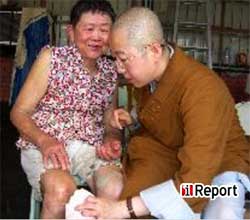 << Buddhist Nun Treats Wounded Morakot Victim
With the help of military rescue workers, villagers with injuries or chronic illnesses caused by lack of food intake were escorted out of affected areas. At the same time, Fo Guang Shan's medical team have dispatched several "Cloud and Water Mobile Clinics" to set up medical service stations in Jiayi, Pingtung, Kaohsiung, and Tainan on August 11th to provide treatment and comfort to those who were injured or traumatized.
Injuries and signs of trauma have begun to show in the survivors after the flood regressed and many have settled down in shelters. The stress and trauma of having lost their home and possessions are no doubt very hard to cope with.
On the morning of August 11th, Venerable Miao Seng, Executive Operator of the "Cloud and Water Medical Services of Fo Guang Shan Compassion Foundation" established medical service stations in areas such as Sanjiao Village and Yijhu Village in Jiayi, Yongle Village and Jiadong Town in Pingtung, Cishan Junior High School in Kaohsiung, and Danei Town in Tainan.
Each of these medical service stations was stationed with a team comprising of a doctor, four nurses, four volunteers and monastics to provide the victims with physical treatments and counseling other than just prescribing eastern and western medicine.
Currently, the medical stations are swamped with victims needing blood pressure check-ups, consultations or spiritual advice from the monastics.
"I thank Fo Guang Shan for being so considerate. The wisdom of Dharma given by the Venerables have given me peace of mind," said Mr. Qiu, who clenched his fist and shook as he described the night Typhoon Morakot came and caused the entire mountain to slide. In the disaster, he saw some people washed away by flood waters.
Venerable Miao Zhu said that most survivors in Lucao County, Jiayi suffered mild injuries that could be treated immediately. However, it is more important to show care and consolation.
Agreeing with this, Venerable Miao Seng says that Venerable Master Hsing Yun understands that after a major disaster, other than rebuilding homes and providing medical services, the most important thing is to offer spiritual comfort to the survivors.
With this in mind, Fo Guang Shan Compassion Foundation's Cloud and Water Hospital Health Consulting Station will continue their work and remain with the families throughout the recovery period and follow-up works.