Queensland's Buddhist numbers swell
by Tony Moore, Brisbane Times, April 30 2016
Brisbane, Australia -- There are probably as many Buddhists in Brisbane today as Baptists, if the 2011 Australian Bureau of Statistics data can be a guide.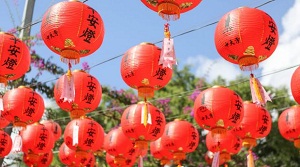 << Buddha Birthday Celebrations. Photo: Michelle Smith
In 2011, 42,227 people in the Greater Brisbane area identified as Buddhists and just over 48,000 said they were Baptists.
More than 66,000 Queenslanders today see themselves as Buddhists.
The true figure will not be known until the results of the 2016 Census to run in August this year.
However, the swelling number of people attracted to Buddhism will come as no surprise to the hosts of Brisbane's 20th Buddha's Birthday at Brisbane's South Bank Parklands this weekend.
Ralph Smith from Brisbane's Chung-Tian Buddhist Temple said even more people were drawn to the three-day Buddha's Birthday celebrations this weekend.
Already 200,000 visitors come to the three-day Buddha's Birthday festival where the South Bank Parklands becomes home to the smiling Buddha.
"This year we have seen a 50 per cent increase in people coming to the temple," Mr Smith said.
"And that is just people who seem to be more and more interested in Buddhism."
Ralph Smith and the Chung Tian Temple said the figures underestimate the strength of Buddhism in Queensland.
"They say 66,000 might be hardcore Buddhists, but I would say three to four time as many people share the ideals of Buddhism," he said.
"What we've found is that people just come from all around the community."
Around the globe, about 300 million people now identify as Buddhist.
Buddhism has its origins about 2500 years ago when a 29-year-old man from Nepal, Siddhartha Gotama, realised wealth and luxury did not guarantee happiness.
After six years of study and meditation, he finally found "the middle path" and was enlightened.
After this enlightenment, Gotama became known as the "Buddha" and spent his life teaching the principles of Buddhism - called the Dhamma, or Truth - until his death at the age of 80.
The festivities in the Buddhism Festival at South Bank on Sunday include tai chi, dragon boat races, meditation, Buddha and baby blessings, kung fu demonstrations and cultural history lectures.
There are talks on mindfulness.
Sunday's Cultural Harmony Parade begins at 10.30am from the South Bank Piazza and the cultural performances begin in the afternoon, with bands from 4.30pm and fireworks at South Bank from 7.30pm.
There is a multi-faith prayer event from 5.30pm.