Dalai Lama to visit Great Stupa in Australia
by Ian Green, Chorten, September 2006
Construction of great Stupa gets underway in preparation for visit by His Holiness Dalai Lama
Bendigo, Victoria (Australia) -- The next stage in the construction of the Great Stupa of Universal Compassion, near Bendigo, Victoria, Australia has commenced. This stage will see the erection of large galvanised pillars and beams that will rise two stories high. Supporting the steel will be concrete sheer walls that will also be erected in this building phase.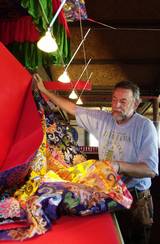 The Great Stupa will be of landmark proportions. It will be the same shape and size as the Great Stupa of Gyantse that was built in the 15th century, in Southern Tibet. Being 50 metres wide at its base and rising to a height of just under 50 metres the Great Stupa of Universal Compassion will be the largest Stupa in the western world. The Great Stupa will be a symbol of world peace. It is also a symbol of the resilience of the Tibetan spirit.
His Holiness the Dalai Lama will bless the Great Stupa construction when he visits Bendigo on June 7 2007. His Holiness has already expressed his support for the building of the Great Stupa in Australia. He has said "This Stupa will be very significant for Buddhist spirituality and for Tibetan culture. Support for this Stupa is a good way of creating merit."
Ian Green, the CEO of the Great Stupa said: "The new construction and the visit of His Holiness are momentous steps in making the Great Stupa a reality. They will create a lot of interest around the Buddhist world." Mr Green is also Chairman of Dalai Lama in Australia, the organisation that is responsible for organising the Dalai Lama's tour in 2007.
The cost of the new construction is largely funded by a 0,000 bank loan from Bendigo Bank. The loan is guaranteed in part by the City of Greater Bendigo.
The Great Stupa was the concept of Lama Thubten Yeshe who visited Atisha Centre in Bendigo in 1981. Lama Yeshe's vision was for a BIG Stupa with a large temple and a library inside. Lama Yeshe's plan for the 120 acre site in Bendigo called for a monastery, Buddhist retreat centre, lay community and hospice to be established near the Great Stupa. Today much of this plan has become a reality and the comprehensive development plan for the entire site has been approved by the planning authorities.