Buddha for National Gallery
by Corrie Perkin and Siobhain Ryan, The Australian, August 29, 2007
Sydney, Australia -- Ros Packer, the philanthropist and widow of millionaire businessman Kerry Packer yesterday declared her admiration for the Kushan dynasty second century Seated Buddha, her new $1 million-plus gift to the National Gallery of Australia's Asian art collection.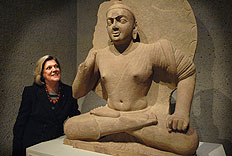 << Ros Packer and the Seated Buddha. Picture: Kym Smith
Ms Packer told The Australian that from the moment gallery director Ron Radford showed her the Indian stone buddha she was drawn to the sculpture's powerful stance and confident yet calm gaze.
"He's very unusual, this one," she said. "I'm very keen about buddhas. I don't know why I'm so attracted to them. I think it's because they're really very soothing and calming."
A prolific art collector, Ms Packer said: "I have a couple at home ... I have a seated one that I put flowers on every day, I've had it for 20 or 30 years."
Seated Buddha is another major birthday acquisition for the NGA, which celebrates 25 years in October.
A few months ago, Mr Radford became aware the Indian Buddha might be available from an important private New York collection and moved discreetly to secure the deal before other public museums pounced.
The sculpture comes from Mathura, a prosperous religious and political capital of an ancient Indian region, and was created at a time when Buddhism flourished in India prior to Hinduism's rise as a powerful religious and cultural force.
"This is a superb early example of this key development in Asian art," said Robyn Maxwell, senior curator of Asian art.
The curator agreed it was fortunate Ms Packer, who sits on the gallery's board, shared her taste in Buddhas.
"Some council members are very eclectic in their tastes, and they have particular things they love and are passionate about," Ms Maxwell said. "We're very lucky Ros is such a fantastic supporter and that she likes Buddhas."
Ms Packer, who is in her fifth and final year as a board member, has a long interest in Asian art, and a deep pocket when it comes to the NGA. Last year she helped it buy a Cy Twombly bronze sculpture for the gallery.
Ms Packer has also served as patron of the National Portrait Gallery, where Florence Packer last year donated a 50-year-old portrait of her late husband Frank.
Mr Radford would not be drawn on who would fill Ms Packer's seat on the board.
"I think Ros Packer is irreplaceable," he said.