A meditation on studying for VCE as thousands prepare for exams
by Bridie Smith, The Age, October 27, 2007
Sydney, Australia -- NEXT Friday will be a big day for Michael Cassapidis. And a dash of Buddhist calm could prove the clincher, as the English-born monk spends this weekend preparing for his first VCE exam.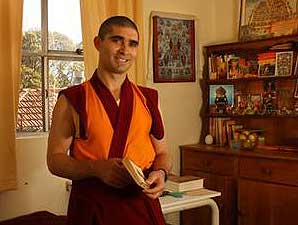 << Michael Cassapidis has not had a conventional education. He will be sitting his English exam with more than 40,000 other students on Friday.
Photo: Penny Stephens
So, should his younger rivals be concerned? Will his Buddhist background give him an edge?
"Come on, I'm just an ordinary bloke," he retorts. "My training in Buddhist teachings definitely does help but I also have to be careful not to be too complacent, so finding the balance between not being too stressed or too complacent is always a challenge."
The 41-year-old mature-age student will be among the 42,795 VCE students to sit the English exam on Friday morning, as a three-week exam period gets under way.
According to Victorian Curriculum and Assessment Authority figures, the monk is among about 890 mature-age students to sit a VCE exam this year.
Preparation for his English exam has been slotted around his duties as an interpreter at East Brighton's Tara Institute, where he works full-time translating Tibetan into English for the institute's teacher Gshe Doga and visitors to the centre.
Born in England to a Greek father and Belgian mother, Michael Cassapidis has never attended a conventional school, instead his education took place in monasteries in Nepal and south India, where he learnt Nepali, Hindi and a smattering of Sherpa language.
His work has taken him all over the globe — he's had stints as an interpreter in the US, Singapore, Malaysia and Holland before arriving in Australia last March.
And with ongoing work at the Buddhist institute secured, Melbourne seemed like a good place to begin his mainstream education.
Last year he completed an English as a Second Language course at Prahran TAFE and this year is enrolled at the Council for Adult Education.
"I'd always longed to get immersed in the formal education system. I've never entered a formal school because I was moving a lot and I got a monastery education," he said.
As a result, most of his English was self-taught and while this has not hindered his interpreting work, the Buddhist monk said having VCE English would enhance both his skills and his understanding of the Buddhist texts.
"When you can see people understand and appreciate the teachings, that gives me a great sense of satisfaction."