Opening of Great Stupa Exhibition Centre in Bendigo
The Buddhist Channel, Jan 17, 2005
Bendigo, Australia -- On Saturday January 15 the Great Stupa Exhibition centre was officially opened by Tenzin Phuntsok Atisha, His Holiness the Dalai Lama's representative in Australia.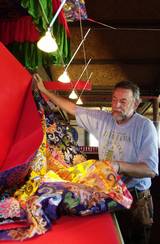 Sangha from several different traditions participated in the event. Geshe Tashi Tsering of Chenrezig Institute, Venerable Thich Phouc Tan of Quang Minh temple and Vajra Masters Yong Le, Yong Minh and Long Sheng from Holy Tantra Jin Gang Dhyana Institute in Hobart performed blessing ceremonies.
Other guests of honour include Mr Bob Cameron Minister for Agriculture, representing The Hon John Pandazopoulos Minister Assisting the Premier on Multicultural Affairs, Murray Thompson Shadow Minister for Multicultural and Aboriginal Affairs, Mr George Lekakis Chairperson Victorian Multicultural Commission, The Mayor of the City of Greater Bendigo, Cr. Rod Fyffe, Mr John McLean CEO of the City of Greater Bendigo, Aunty Lynne Warren representing the Bendigo and District Aboriginal Cooperative, Mrs Joyce Green, wife of Ed Green, who originally offered the land for Atisha Buddhist Centre, Mr Wilson Johnson, Department of Immigration (DIMIA) and Mr Brian Ashen, Chair of the Buddhist Council of Victoria
Ian Green, CEO of the Great Stupa Limited said "This is truly a significant day for Buddhism in this country. It is also another big step along the path to make the Great Stupa of Universal Compassion a reality."
The Great Stupa will be the largest Buddhist Stupa in the Western world. It will also be a powerful influence for world peace. As Lama Zopa Rinpoche has said "It will illuminate the world."
The Great Stupa Exhibition Centre includes Holy Relics that have been offered to the Great Stupa and holy objects that are being gathered for the Great Stupa. The Exhibition centre is open weekends and public holidays and entry is free.
The Exhibition Centre is located next to the Great Stupa site about 15 minutes from Bendigo in the state of Victoria, Australia. It can be visited free of charge on weekends and public holidays.
Major items (information in English, Chinese and Vietnamese) in the exhibition centre are:
Sacred Buddhist relics ? this is one of the most extensive collections of Buddhist relics in the world. Included are relics of Shakyamuni Buddha, Kasyapa Buddha, 16 Arhants, plus relics from Tibet, China, Malaysia, Thailand, Myanmar and Mongolia.
Kalachakra house ? used by His Holiness Dalai Lama.
Stupa models ? The Great Stupa of Universal Compassion, Mahabodhi Stupa, Schwedagon Stupa and others.
3.5 metres high statue Guru Rinpoche ? Soon to be assembled.
Prayer wheels ? Currently 8 have arrived (of 108).
Kadampa stupas ? Currently 10 have arrived (of 5,000).
Statues and Sa Tsa?s ? Many on display.
Video ? Video of Great Stupa project and Geshe Lama Konchog?s cremation.
Jade Buddha ? Display on jade and jade Buddha project.
For further information please contact info@stupa.org.au or visit www.stupa.org.au