Australia: Lantern pins down tight-knit community
Star News Group, May 29, 2008
Berwick, Victoria (Australia) -- BERWICK'S Buddhist Temple of Victoria celebrated the Buddhist birthday by creating a lantern made of more than 300 bundles of wool and 1500 drawing pins.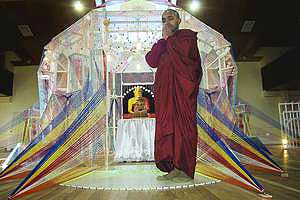 << Buddhist monk Wimalananda unveiled the new lantern made from wool and drawing pins at the Buddhist Temple of Victoria.
The unique lantern is a decoration made every year to symbolise the Buddha and in past years the lanterns were created from paper, tissue paper and bamboo.
Buddhist monk Saddhanusari spent more than a month constructing the two-metre high piece of art.
About Buddhist Vihara Victoria
Buddhist Vihara Victoria Inc. (BVV) was established in 1994 under the guidance of the late Venerable Gangodawila Soma Thero. The association is affiliated to the Siri Vajiragnana Dharmayathanaya in Sri Lanka. From its inception, there were three major objectives for setting up this Vihara:
1) Setting up an education, research and Information centre to make the Buddha's teaching (Dhamma) available to all who come in search of it
2) To be a focal point for the next generation of Australians to learn and follow the Buddhist way of life including practices of Dana (letting go), Seela (virtue) and Bhavana (meditation).
3) To safeguard and protect the welfare of all living beings and promote inter-communal peace, harmony and amity.
The Vihara, which started at Noble Park grew in numbers until, the pressing need for more space made it necessary to move to more spacious premises.
A residence for the monks was built on a five acre property in Berwick and the Vihara moved there in March 2001 and was named Sakyamuni Sambuddha Vihara.
Plans are underway to construct a hall to provide space for all those benefiting from the services provided by the Vihara.
These include; the Dhamma school, meditation programs, public discourses, cultural and religious festivals. This will also house the library and research facility.
Official website: http://www.vihara.org.au