Dalai Lama arrives in Australia to welcomes and taunts
AAP, June 11, 2008
Sydney, Australia -- The Dalai Lama arrived in Australia today to a warm welcome from supporters but was branded a "liar" and a "hypocrite" by some 50 protesting Buddhist monks and nuns.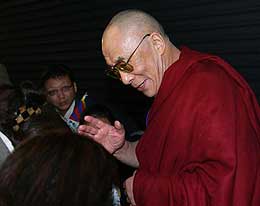 << The Dalai Lama blesses monks from Sydney's Tibetan community moments after arriving in Sydney. Photo: Kate Geraghty
Members of a Buddhist group known as the Western Shugden Society (WSS) accuse the Dalai Lama of suppressing religious freedom and driving them out of the Buddhist community.
They chanted "Dalai Lama stop lying" and waved placards calling for religious freedom when the exiled Tibetan spiritual leader held a meditation seminar at Sydney's Olympic Park.
"He is a hypocrite, and it's very sad to say that about a religious leader," said WSS spokesperson Kelsang Pema after the Dalai Lama flew into Sydney for a visit that includes talks with both the federal government and opposition.
"He is not practising what he preaches.
"He's here teaching about love and compassion but he endorses human atrocities, basically."
She said the Dalai Lama's "inflammatory" campaign against a Buddhist deity called Dorje Shugden had resulted in thousands of monks being expelled from monasteries, supporters denied food, medicine and travel visas, families being ostracised and Shugden temples being destroyed.
"It's mainstream Tibetan Buddhism, but he is making us look like an off-shoot because he has had a change of heart.
"He has banned a prayer which he himself engaged in for half of his life."
The protest was peaceful, so much so that the demonstrators took a morning tea break.
Hundreds of Dalai Lama supporters are attending the five-day meditation gathering, paying between $90 and $248 for single day tickets and from $450 to $800 for the full event.
They were subject to weapons searches with metal detectors before being allowed past a two-metre high security fence.
One supporter, Lobsang Lungtok, said the protests were disrespectful to the Dalai Lama.
"It is their political right to protest but we will not engage with them," Mr Lungtok said.
"His Holiness has advised us not to face off with them and we will abide by his wishes."
The 72-year-old Nobel laureate was greeted by about 100 members of Sydney's Tibetan community when he arrived this morning.
Local Tibetan leader Tenzin Gaden said it was not a political visit, but he hoped the Dalai Lama's presence would raise awareness of the plight of the Tibetan people under Chinese rule.
Opposition Leader Brendan Nelson said he would be discussing religious and international affairs with the Dalai Lama at a meeting scheduled in Sydney this afternoon.
The Dalai Lama will also meet Foreign Minister Stephen Smith in Sydney later this week, as well as Immigration Minister Chris Evans, who will be acting prime minister in the absence of Kevin Rudd in Japan and Indonesia and his deputy Julia Gillard in New Zealand.
The Australia Tibet Council today said it was concerned that China would resist international calls for substantive dialogue on Tibet before the Beijing Olympics in August.
Greens leader Bob Brown, who will meet the Dalai Lama tomorrow, said he would be discussing issues including the Olympics.
He said Mr Rudd should refuse to attend the Games unless China agreed to "meaningful" talks with the Dalai Lama or his representatives.
Mr Rudd, speaking in Japan, said he would have met with the Dalai Lama had they both been in Australia at the same time.