Hope in the heart of a homeless hero
by Hamish McDonald and Paul Bibby. Sydney Morning Herald, June 12, 2008
Sydney, Australia -- AFTER nearly half a century as a "homeless person", as he describes himself, the Dalai Lama was yesterday still hopeful of a breakthrough in negotiations with China that might let him return to Tibet.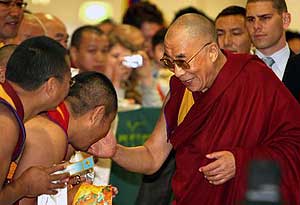 << "Generations change, but the resentment remains" ... the Dalai Lama blesses monks afer arriving in Sydney yesterday.
Photo: Kate Geraghty
Speaking in Sydney, the exiled spiritual leader said he expected formal talks between his envoys and the Chinese to resume by the end of the month or in early July.
He saw a new seriousness among China's communist leaders after international concern about the repression of this year's wave of protest in Tibet and neighbouring ethnic Tibetan areas.
The protests, led by Buddhist monks, began on the March 10 anniversary of the 1959 uprising against Chinese rule which was suppressed by the People's Liberation Army, causing the Dalai Lama to flee to India.
Now nearly 73, the Dalai Lama said Tibetans retained their unhappiness at the Chinese pressure on their culture and religion.
"Generations change, but the resentment remains, from parent, to children, to grandchildren," he said.
"Now I think the Chinese Government begins to feel something goes wrong, in spite of putting lots of money, billions of yuan [into developing Tibet]."
The Dalai Lama's arrival in Sydney was met with protests by an alternative Buddhist group, the Western Shugden Society, which claims he has persecuted them for their worship of an ancient Buddhist writer.
The Tibetan leader held a teaching session at Olympic Park, covering Buddhist philosophy, questions of objectivity and subjectivity, and a passionate defence of Islam.
He was philosophical about the protest. "As far as freedom of expression is concerned [it is] entirely up to them … I never say shut up."
He broke away at lunchtime to address a select audience of about 100 political, media, and religious figures. The Federal Government's welcome is being left to the Immigration Minister, Chris Evans, acting as prime minister in the absence of Kevin Rudd and the Deputy Prime Minister, Julia Gillard. The Foreign Affairs Minister, Stephen Smith, will also meet the Dalai Lama.