Buddhist monk Jose sold drugs from Kings Cross laundry
By Byron Kaye, The Daily Telegraph, June 12, 2008
Sydney, Australia -- A BUDDHIST monk and self-confessed drug dealer has been charged with lying to police to get his passport back.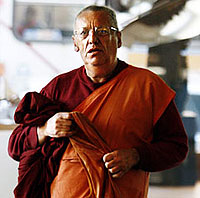 << Sold drugs from his business ... laundry owner and Laotian Buddhist monk Jose Sanz-Tonnelier outside court. Picture: Craig Greenhill
Jose Sanz-Tonnelier, who claims to be a Laotian Buddhist monk, fronted court yesterday in flowing orange robes to plead guilty to charges of dealing marijuana from a Kings Cross laundromat.
He is also charged with false representation after police alleged he reported his passport stolen so that he could apply for a new one.
In fact the Argentine-American's passports had been confiscated in police raids on his Darly Laundrette early last year. As well as being caught with more than 120g of marijuana, police found 35 cannabis plants on the premises.
He will face cultivation charges later this month.
Sanz-Tonnelier, who appeared on ABC Radio's Life Matters show in 2002 billed as "Ajarn Jose", had been required to report for bail at Liverpool police station, where his passports were held.
In June last year he reported the passports stolen to Campbelltown police, using a different name and signature.
"He subsequently made an application to the American embassy for a new passport," a statement tendered by police to the court said.
"He also told police . . . that he was a tourist who arrived in May 2007 and was only here until August."
The 63-year-old, who says he has cancer, showed up to court more than three hours late yesterday, telling lawyers he was undergoing a CAT scan at St Vincent's Hospital.
Police went to the hospital and said there was no record of Sanz-Tonnelier there.
"We've gone and checked and he was never there," an officer said.
The supply and possession charges were adjourned to June 26 to give Sanz-Tonnelier's lawyer time to gather evidence of his "extensive medical history".