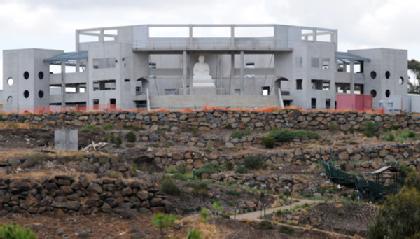 The Heavenly Queen Buddhist temple on the shores of the Maribyrnong River slowly takes shape after many years of delays. Photo: Joe Armao
Train travellers on the Sydenham and Werribee lines have a perfect view of the statue, which is just south of the railway line opposite the Newells Paddock site.
The stainless steel, gold-painted statue was designed and made in Nanjing, China.
The six-building complex has been a decade in the making, since the 35,930-square-metre site was remediated and sold to the Heavenly Queen Temple Society.
Society president William Tsang said the first stage had been tendered and construction was expected to be completed by the end of next year.
The $3 million first stage will involve building the main temple, toilets, kitchen and restaurant.
Mr Tsang said the society expected hundreds of devotees to visit each week, along with school groups and visitors.
"I believe we'll have a lot of tourists from here and overseas," he said.
There are more than 1500 Heavenly Queen temples worldwide, but this is only the second one in Australia. The other is in Sydney.
The Heavenly Queen, also known as Mazu, lived from 960-987 during the Sung Dynasty. She became a legend after saving and helping many people.
Mr Tsang said the complex had been designed by a Chinese man and was modelled on Beijing's Forbidden City.
The proposal hasn't been without controversies. Initially, a planning permit for the temple complex was granted in 1999.
This was extended twice, and eventually lapsed. A second permit was granted in 2004.
The society and Maribyrnong Council then fought in the Victorian Civil and Administrative Tribunal over what environmental works should be done on the site, a likely dumping ground for nearby tanneries in the 1940s and '50s and the site of a glue factory 100 years ago.
The society operates from a site in Footscray, which may be sold to raise money.