Young people can change the world: Dalai Lama
by STEPHANIE GARDINER, AAP, November 30, 2009
Sydney, Australia -- The Dalai Lama has called on young people to work to make the world a better place. All individuals can make a change, he says.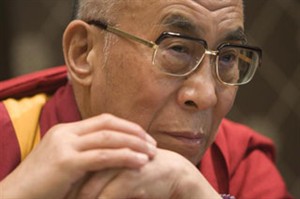 The Buddhist spiritual leader is giving talks in Sydney, Melbourne and Hobart focusing on the power of the individual and how to face up to future challenges, such as climate change and overpopulation.
The visit marks 20 years since he was awarded the Nobel Peace Prize.
At a press conference in Sydney on Monday, he said young people must make the most of the 21st century.
"You are the main generation to utilise the 21st century," he said.
"And also in your hands (is) a better world, or miserable world at the end of this century."
The main theme of his tour is the need to develop both individual and universal responsibility to tackle climate change and other future challenges.
He said he was encouraged that governments around the world were taking climate change seriously.
"The elected government, sometimes their number one ... priority is national interest, national economy interest, then global issues are sometimes secondary.
"That, I think, should change.
"The global issue should be number one.
"In some cases in order to protect global issues, some sacrifice of national interest (is needed)."
Each individual could also make a difference and greater education about the environment was needed, he said.
"In my own case I never use bathtub, only shower.
"Whenever I leave my room I always put off my light.
"Taking care of the environment ... (is now) part of my life.
"Taking care of the environment should be part of our daily life."
His holiness said he was happy to be returning to Australia after a visit in June last year.
He said he wasn't disappointed not to meet with Prime Minister Kevin Rudd because meeting with the public was the main purpose of his visit.
With his trademark giggle, his holiness also gave some advice about how to live a satisfied life.
The 74-year-old said people must try to find happiness at the "mental level" as opposed to the "sensory level" through things such as movies and music.
"It's not really deep," he said.
"Genuine satisfaction must come from the mental level, love, compassion, forgiveness.
"Through these ... it's long lasting satisfaction.
"Satisfaction ... through sensory level is short satisfaction."