Buddhist temple has community blessing
by Sarah Garvis, Southern Times Messenger, Oct 5, 2010
Sellicks Hill, South Australia -- PLANS to build a $15 million Buddhist temple at Sellicks Hill have been backed by local tourism and community groups, who say it will attract residents from all over the world.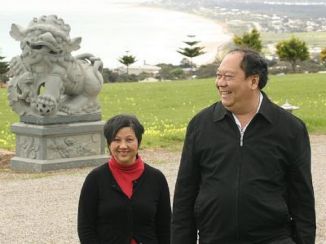 << Cheryl and Lee Chew at the site where the Nan Hai Pu Tuo Temple will be built at Sellicks Beach. Pic: Stephen Laffer.
A development report for the Nan Hai Pu Tuo Temple, earmarked for a 55ha site on Cactus Canyon Rd, was released last week detailing the cultural, environmental and economic impact of the project.
The temple, which would be overseen by Buddhist Abbot Ven. Master Miaojing, will include a 35m high pagoda, an 18m bronze statue of Buddha, a temple and Chinese gardens.
Nan Hai Pu Tuo Temple of Australia Inc spokesman Lee Chew said the temple would be a community asset and used for education, tourism, social and religious purposes.
"It will be an education centre where school children and adults can come to learn about Chinese culture and Buddhism practices," Mr Chew said.
"It will be a tourism attraction and complement the nearby McLaren Vale wine region."
The report estimated the temple would attract about 22,300 people a year and inject $15 million into the local economy during construction.
It is the second attempt by the association to gain development approval, with the first application in 1997 attracting community opposition because of its size and concerns about sewage management.
Mr Chew said there were thousands practising the religion in the state, but there was "no place of worship for those in the south". Mr Chew's wife Cheryl said the temple would provide meditation and relaxation classes, with Buddhist monks and nuns living on site.
Sellicks Area Residents' Association spokesman Wayne Bird said the temple was a "fantastic idea".
"In terms of tourism it will really put Sellicks on the world map," Mr Bird said.
Aldinga Bay Trade and Tourism Association vice-president Cheryl Batic said the temple would have a positive affect on Aldinga businesses. "We're in favour of it because it would substantially increase tourism and give local businesses a boost," Ms Batic said.
Fleurieu Peninsula Tourism regional tourism manager Debra Pietsch said the tourism impacts of the temple were encouraging. "Temples such as the one proposed have the potential to become tourism drawcards for their region," Ms Pietsch said.
The public will be given until Monday, November 8, to make submissions on the project, before a final assessment is done by Planning Minister Paul Holloway.
SA Governor Kevin Scarce will have the final word on whether the temple is approved.
A public meeting about the development will be held at the Sellicks Community Hall, Riviera Rd, Sellicks Beach, on Wednesday, October 13, from 7pm.