Art, drama and poetry meet on Karmapa`s creative canvas
IANS, December 29, 2011
New Delhi, India -- When Ogyen Trinley Dorje is not busy managing his 900-year-old religious order, the 17th Karmapa likes to do more human and colourful things - painting and writing poetry, songs and plays.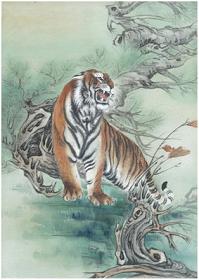 An accomplished artist, the Karmapa sketches and paints with water colour.
"Art for me is a way of resting and replenishing my mind. As the person who holds the name of Karmapa, I hold so many responsibilities that need to be completed, to be accomplished, but not everything goes according to plan. It can be exhausting sometimes. What I like about painting a picture is that when I sit down to paint, I complete it," the Karmapa told reporters here.
The `sense of completion that goes along with completing the picture and the artistic ability` inspire him, the Karmapa said. "Even when I am drawing, there is something about the process of painting that brings peace and relaxation to my mind," the Karmapa said.
A series of six of his art works released as a New Year memento shows his mastery over his craft. The most striking among the art works made public is a roaring tiger ready to spring. Painted in water colour and ink, the exquisite Chinese style painting drawn to meticulous realistic details, depicts the snarling tiger poised on the trunk of an old tree - with its fangs bared.
A pen and ink drawing of the seated Buddhist goddess Tara on a lotus - the harbinger of good luck and wealth - is an example of the artist`s felicity with lines and free-hand strokes. The drawing stands out for its flowing details and intricacy.
The Karmapa, who has been instructed in art at various stages in life for brief periods, is fond of drawing figures, motifs from nature and icons from Tibetan religious texts which he brings to light with his intuitive play of light and shade.
"Basically, I started making (painting) pictures when I was quite young. I have always enjoyed doing it. In case of drama, it happened some time later during my days as the Karmapa (out of necessity). But I engaged in poetry naturally from a young age (along with art)," the Karmapa said.
Many of the songs written by the Karmapa have been set to music by the Tibetan Institute of Performing Arts (TIPA) - a 54-year-old Dharamshala-based Tibetan performing arts and culture promotion and conservation platform.
One of his plays, `Life of Milarepa`, an operatic Tibetan theatre combined with elements of modern drama in six acts, drew more 20,000 people when it was staged in Bodh Gaya by TIPA in January 2010. Scripted, produced and overseen by the Karmapa, the relay (long) play narrates the story of the life of the Buddhist monk Milarepa, a Tibetan Buddhist master and a hero for his battles with evil. The play, often described as one of the longest and the most opulent Tibetan stage productions - has been compiled into a DVD.
A voracious reader, the Karmapa reads in the only language he is proficient in - Tibetan. "I read all kinds of Tibetan compositions which include fiction, poetry and all kinds of literary art works," the Karmapa said.
He watches "some Hollywood and some Asian movies".
"I like movies which have deeper meanings to them - not just about entertainment and dramatic action. If it is a movie about war, it has to be about the journey of the mind about the process of war and the depth of human experience. It has to provide some valuable angle. In terms of plays and other forms of art, there are so many that it is
hard to start with," he said.
The Karmapa`s message for youth - both in India and across the world - is that "there has been a lot of material advancement, a lot of advancement related to the external world, but this advancement has the net effect of limiting our own personal freedom".
"So in the light of the situation, it is very important to build our inner world of our mind as well. Buddhism offers methods to do that," the Karmapa said.