In a postmodern world, a return to the traditional
Bangkok Post, Oct 28, 2012
Bangkok, Thailand -- While Bangkok's galleries and studios today largely vibrate with the experimental and conceptual, a practitioner of Buddhist painting and plaster-moulded bas-relief quietly keeps the ancient arts alive and relevant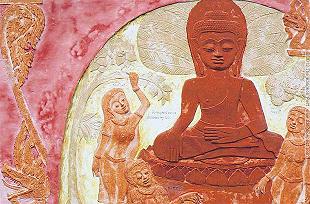 Pakorn Klomkliang, curator of the Bangkok Art and Culture Centre, describes Songrit Muaiprom's work, as "filled with rich simplicity, unfeigned, unsophisticated, raw and without embellishments".
While the pieces in "Northeastern Thai Buddhist Art", Songrit's first solo exhibition, are clear and accessible, that doesn't diminish the dexterity of the artist nor the relevance of his work. He won first prize in the Traditional Thai Painting category at the Bua Luang Painting Exhibition this year, and has won many other awards and been featured in several group exhibitions.
From the Northeast, Songrit shunned the traditional palatial style and presented his work as folk art, of a local and classical beauty influenced by local Buddhist temple art and Thai traditional techniques in plaster moulding, providing an original interpretation of what he considers the fundamental principles of Buddhism.
"These factors lend much to the experience of Thai painting and low relief sculpture," Mr Pakorn explains, "including its meaning and the tactile beauty and smell of fresh plaster moulded by hand, which reveals the essential truth of the material and colour.
"Some of his works are also considered archetypal within Thai traditional art, such as the bird's-eye view, depicting the filling of vessels, placing images symmetrically, the use of coloured glass and gold leaf, and stories related to Buddhism and Eastern traditions."
Born in 1987, Songrit was an ordained and practising monk for more than eight years from the age of 12, before discovering his talent in the arts and choosing a path that expresses the cultural heritage of Buddhism. Songrit studied painting and sculpture at several colleges and received a master's degree from Silpakorn University.
His work is divided between the secular and spiritual - with the secular expressed through paintings that illustrate points in the history of man, and the spiritual through sculpture that explains important moments in the Buddha's life and illustrates some truths of Buddhism.
In an age where many artists - in terms of technique, subject and medium - strive to out-experiment each other in an effort to lay claim to the avant-garde, and where intensely personal or bizarrely abstract concepts, objets trouve or retro-rehashing fall under the banner of the contemporary, it can also be refreshing to be confronted with work from a modern bastion of traditional temple art.
If you go
'Northeastern Thai Buddhist Art' is on show on the 36th floor of the Pullman Bangkok Hotel G, Silom Road, daily 10am to 7pm until Dec 28.