Contemporary Art Meets Buddhism
WSJ Blog, November 1, 2013
Seoul, South Korea -- A South Korean Buddhist temple is playing host to a contemporary art show, in an effort to throw a new perspective to the ancient religion and the age-old surroundings.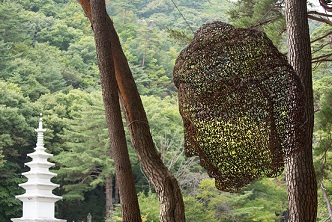 << The Temple of Haeinsa, an ancient shrine on a mountainside southeast of Seoul, is playing host to a contemporary art show.
The Temple of Haeinsa, a 1,211-year-old shrine located on a mountainside 280 kilometers (174 miles) southeast of Seoul, is home to the Tripitaka Koreana, the most complete collection of Buddhist texts, laws and treaties, engraved on more than 80,000 woodblocks carved in the 13th century. The woodblocks, their storage and the surrounding temple grounds are recognized as a UNESCO World Heritage site.
The temple's monks hosted the inaugural contemporary art show in 2011 to mark the millennial anniversary of the first woodblocks, which were engraved with a wish for protection against invasion from a northern dynasty that occupied lands now belonging to Mongolia and China. Those 1,000-year-old blocks were lost in a fire during the ensuing incursion.
This year marks the Haein Art Project's second edition, which features 30 artists from South Korea, Hong Kong, India, the U.S., Spain and Italy. Most created new artworks after spending two weeks or more at the temple.
The works, scattered around the temple grounds, are informed by Buddhist thinking. Take an installation of white flags at the pathway leading up to the temple gates: The work, by Indian artist Vibha Galhotra, represents national flags stripped of color to represent a world without borders or differences.
Inside the temple yards, a work by South Korean artist duo Mioon projects images of nature and architecture that appear and disappear sporadically in an echo of fullness and emptiness of the mind.
"It wouldn't be strange to compare modern art and Buddhism to water and oil. They aren't supposed to mix together," said Ven. Hyangrok, the show's organizer and resident monk at the temple. "But artists are like disciplinants. Their meditation also leads them to a sort of enlightenment."
The Haein Art Project runs until Nov. 10.