X-ray reveals hidden mini tower inside statue of ancient Buddhist leader in Kyoto
By NORIHIDE FURUSAWA, Asahi Shimbun, September 2, 2014
NARA, Japan -- A miniature "gorinto" five-ringed Buddhist tower has been discovered inside a statue of the founder of the Daigoji temple in Kyoto's Fushimi Ward.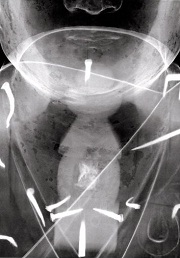 << An X-ray image of the interior of the statue shows a slip of paper inside the gorinto tower. (Provided by the Nara National Museum)
The announcement of the discovery was made Sept. 1 by Daigoji temple and the Nara National Museum. The gorinto was revealed after the centuries-old 83-centimeter high wooden statue underwent an X-ray examination.
Daigoji temple, recognized as a UNESCO World Heritage site, was founded by monk Rigen Daishi (832-909) during the Heian Period (794-1185). The seated statue of Rigen Daishi at the temple is designated as one of Japan's important cultural properties.
An X-ray image of the statue revealed that the interior was partitioned and an item had been sealed inside. The presence of a 15-cm high gorinto, as well as a small object wrapped in paper inside the gorinto, were confirmed above the chest of the statue.
Gorinto were used as memorials to the deceased and are common in Buddhist temples and cemeteries.
According to the Nara National Museum, sculptures of high priests produced between the Heian Period and Kamakura Period (1192-1333) often contain the remains of the priests.
"(The statue's creator) may have placed something highly important related to Daishi (in the gorinto)," said Junna Nakada, the head priest of the temple.
Nakada said head priests at the temple have worshipped at gorinto down through the centuries.
"I am impressed to find that faith in the gorinto, a symbol of the universe, continues to this day," he said.
The statue of Rigen Daishi holds a "gokosho," a ritual implement of esoteric Buddhism, in his right hand. It is the second such statue to be constructed one year after the first one enshrined in Kaizando hall at the temple was destroyed by fire in 1260.
The statue is currently on display at the special exhibition, "The Universe of Daigoji--Esoteric Buddhist Imagery and Sacred Texts" at the Nara National Museum. It will run through Sept. 15.