Marriage of Buddhism and modern dance
By Kwon Mee-yoo, The Korea Times, Oct 17, 2014
Seoul, South Korea -- Masked dancers run through gilded Buddhist statues on stage and roll over with them. The dancers also pile up plastic baskets on stage and knock them down, as if symbolizing Koreans accepting and consuming new culture rapidly.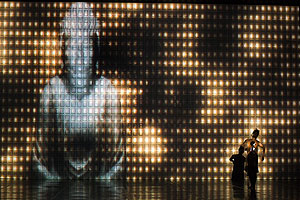 << A scene from the Korea National Contemporary Dance Company's repertoire "Bul-ssang" / Courtesy of Korea National Contemporary Dance Company
This is the Korea National Contemporary Dance Company (KNCDC)'s "Bul-ssang," which will be staged on Friday and Saturday at Main Hall Hae of National Theater of Korea on Mount Nam.
"Bul-ssang" is a repertoire of the KNCDC, created by artistic director Ahn Ae-soon. Ahn is a prominent dancer and choreographer in Korea, known for her sense of rhythm and knack of creating dynamic space.
Premiered in 2009 at LG Arts Center, the dance piece is a fine example of collaboration of contemporary dacne, live DJing, visual art and video works. Ahn was inspired by Buddha Bar, a Paris-born restaurant that incorporates large statues of Buddha as a main theme of interior. "Westerners built a new trend with Buddhist statues and lounge music. This is my self-reflection as a choreographer who failed to renew Korean tradition," Ahn said.
The title "Bul-ssang" comes from the Korean word for Buddhist statue, written in the way it sounds. Ahn tried to portray that the faces of the statues are actually those of worldly people and these people seek sanctity in their paltry but dynamic life.
Ahn incorporated various types of dance from Indian classical dance Kathak, Chinese martial art Bodhidharma and Korean traditional Jindo drum dance to modern hip-hop and popping dance moves to express the distortion and transformation of tradition in modern Asian countries.
She also collaborated with artists from various genres to give "Bul-ssang" more depth. Installation artist Choi Jeong-hwa contributed the statues and plastic baskets. The statues on stage are not traditional Buddhist statue but objects between the East and the West, reflecting modern people living in a cultural melting pot.
DJ Soulscape's live DJing crossing over hip-hop, lounge and soul music spice up the performance, while fashion designer Im Seon-oc's minimal costume complements playful, impromptu movements of the dancers.
It also received critical acclaim overseas. Last October, "Bul-ssang" was invited to the Art Summit Indonesia 2013 and praised for its set design and use of contemporary art.
"The dance deals with identity crisis of Asian in the course of modernization and the theme gained sympathy from international audience," a KNCDC official said.
"Bul-ssang" will be staged at the Theatre National de Chaillot in Paris in 2015 in celebration of the 130th anniversary of the amity between France and Korea. Jarmo Penttilla, advisor of the theater, saw a rehearsal of "Bul-ssang" in Indonesia and was fascinated by the unique combination of Asian elements and dance and invited the KNCDC to perform the piece at the Chaillot National Theater, one of the most prestigious dance venues in the world.
"Bul-ssang" runs on Oct. 10 and 11. Tickets cost from 30,000 to 50,000 won. For more information, visit www.kncdc.org or call (02) 3472-1420.