Art, export of Esoteric Buddhism
By Sun Shuangjie, Global Times, May 12, 2016
Exhibit of Japanese art offers link to Xi'an origins now all but disappeared

Shanghai, China -- A major collection of Buddhist art from Japan, on only its second exhibition outside of the country, not only offers insights into one of the religion's major branches in the nation, but also a snapshot of the sect's origins in Xi'an in the 9th century that is all but disappeared in China.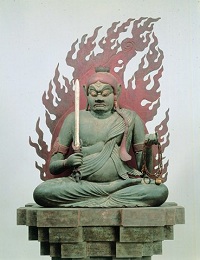 Ninety pieces of art from Kyoto's Daigoji Temple met audiences at Shanghai Museum earlier this week in an exhibit titled The Beauty of Mantra: Arts in the Collection of Daigoji Temple.
The exhibit includes Buddhist statues, paintings, scriptures and ceremonial objects dating between the 7th century and the 19th century. Thirteen of them are considered national treasures, and 31 pieces are classified as being of important cultural property by the Agency for Cultural Affairs.
Daigoji Temple, located in southern Kyoto, has been a significant Esoteric Buddhist temple in Japan since its establishment in 874.
It was honored as a UNESCO World Cultural Heritage Site in 1994, in recognition of both its history and its precious collection of 69,420 valuable artworks.
This is the second time Daigoji Temple's art collection has been showcased outside of the country, having traveled to Germany in 2008. Shanghai Museum director Yang Zhigang said it's not easy to coordinate showing such a collection overseas, and it took the participating institutes three and a half years to prepare for this exhibit.
Its organizers are the Daigoji Temple, the Japan National Institutes for Culture Heritage, the Shanghai Museum and the Shaanxi History Museum.
From Japan back to China
The exhibit's significance for China is huge, because Esoteric Buddhism, also called Vajrayana or Tantric Buddhism, was imported to Japan from China.
In 804, Kukai, one of the earliest Japanese monks who came to study in China, was sent to China's then-capital Xi'an to study under Master Huiguo at Qinglong Temple.
After two years, Kukai returned to Japan with not only Buddhist teachings but also Buddhist art. Kukai established Shingon Buddhism in Japan, and decades later, one of Kukai's disciples, Shobo, built the Daigoji Temple.
Since then Shingon Buddhism has become one of the religion's major schools in Japan, and it has gradually developed into a number of minor derivatives.
However, in China, Esoteric Buddhism has gradually disappeared. And Shingon Buddhism in Japan has become a precious source to study ancient Chinese Esoteric Buddhism.
According to Li Baihua, an expert with Shanghai Museum, the style of early Japanese Buddhist art was greatly influenced by that in China. For instance, ancient Japanese Buddhist statues were usually made of wood; partly because it has been a favored material in Japan for long, and partly because their makers were influenced by Buddhist statues of the Tang Dynasty (618-907).
Before Tang, Chinese Buddhist statues were mainly made of bronze, stone and gold. Meanwhile, the plump body of Buddha seen in Japan is also derived from the Tang style.
From its beginnings
The exhibition is divided into three parts. The first part elaborates on the history of the temple through sculptures of its historical monks and sutras recording their stories.
The second focuses on rites and sacred imagery in Esoteric Buddhism, which is known for its rituals to grant wishes. Statues, mandalas and ritual devices are on view.
The third part takes the audience to artistic life in the temple, which has been a favored place for Japanese emperors, nobles and the warrior class to gather and revel.
For instance, famous 16th-century general and politician Toyotomi Hideyoshi once initiated one of the largest gatherings to celebrate the cherry blossoms at the temple.
Highlights in the Shanghai exhibit include a set of Five Great Wisdom Kings (pictured above), Sutra on Cause and Effect (below) and paintings like Manjusri Crossing the Sea and Hariti.
Following the Shanghai exhibit, Shaanxi History Museum will showcase a collection of 93 pieces from Daigoji Temple in Xi'an in late July.
Date:
Until July 10, 9 am to 5 pm
Venue:
Shanghai Museum
Address: 201 People's Avenue
Admission: Free
Call 6372-3500 for details