Review: 'Buddha Prince' is a walk in the park
by Kristin Tillotson, Star Tribune, September 9, 2005
Minneapolis, USA -- If you pass by Minnehaha Park in Minneapolis this evening and happen upon some flute-playing yaks, a snow lion or a dragon, don't be alarmed. They're all costumed characters in an outdoor "walking play."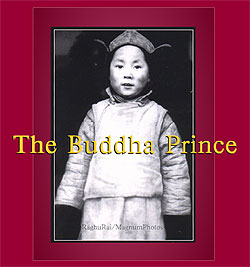 At a walk-through rehearsal in the park on Wednesday, Markell Kiefer led the 19 performers in the mobile production along paths and down the "Deer Pen" to the creek, pointing out stops along the way where audiences will hear music, see rock cairns in the creek and prayer flags in trees, and sidestep a Red Army guard or sleeping Communist here and there.
Written and directed by Kiefer, "The Buddha Prince" blends dancing and physical theater with songs sung in English and Tibetan, masks and puppets. Not to mention leaves, grass, stones, incense-burning barbecue grills and the occasional discreet squirt of bug spray.
"It's about connections between the environment, spirituality and theater," said Keifer, looking like an urban wood sprite as she stood among thick foliage in red braids and a green cap.
The 32-year-old Wayzata native spent much of her youth being raised as a Tibetan Buddhist in Boulder, Colo., by her mother, Marlow Brooks. Her father, Tom Kiefer, a doctor, lives in Excelsior.
Kiefer, who received a master's degree in fine art from the Buddhism-affiliated Naropa Institute in Boulder, said her play is inspired by the life and work of the Dalai Lama, the world's best-known Buddhist leader and the object of reverence among his followers. Kiefer met him while studying at the Children's Theatre Company in Minneapolis.
Tenzin Ngawang, a performing artist who teaches at the Tibetan American Foundation of Minnesota, consulted on the project and will play the dranyen, a six-stringed Tibetan guitar. Other instruments -- accordion, banjo, horns, lutes and drums -- represent a mix of East and West . He described one difference between Tibetan and American theater:
"Most Tibetan dances have specific spiritual meaning," he said. "They might praise God or nature or be a call for peace."
A version of "The Buddha Prince" was performed in Minneapolis in 2001. The differences this time are a bigger budget, professional actors, live music and more sophisticated costumes and set, Kiefer said.
Most of the performers, who have been rehearsing since mid-August, were chosen following auditions in New York, where the play will be performed later this month, and Minneapolis. Many of the props, including 20-foot-high bamboo Torii (temple) gates, were donated by the Smithsonian, which had used them in a previous exhibition.
The professional production is costing about $113,000 for both cities, said Kiefer, who has raised a good portion of that sum through individual donors and a few foundations.
While the play is free, donations will be collected for Tibetan relief organizations. The Twin Cities has the second-highest population of displaced Tibetans in the country, after New York.
As to why there are only two Tibetans directly participating in the project -- Ngawang and composer Ngawang Choephel -- Kiefer said, "The style of the play is not innately Tibetan; it's more Western. It's hard to find Tibetan actors accustomed to performing in the Western style."
The Dalai Lama, the inspiration for all of this effort, has not yet seen "The Buddha Prince." The play's upcoming Central Park staging during the last week in September coincides with his visit to New York. Might he perhaps catch a show?
"We hope so," Kiefer said. "He has a busy schedule, and he goes to bed at 7 p.m. and wakes up at 4 a.m."
When asked if she was worried that too many people are absorbed in the aftermath of Hurricane Katrina to be able to turn to other causes and more hopeful attitudes, she paused.
"The play is also an exploration of kindness," she said. "We all know it's good to be good to others, but why? Because it's the source of true happiness."
The Buddha Prince
What: A one-hour outdoor "walking play" inspired by the Dalai Lama that takes the audience on a short tour of a city park as the story unfolds (sensible shoes suggested).
When: 6 p.m. today, Monday and Tuesday; 2 and 5 p.m. Saturday and Sunday.
Where: Wabun Picnic Area of Minnehaha Park, 46th Avenue S. and Godfrey Parkway, Minneapolis. Limited free parking available in adjacent lot.
Tickets: Free; donations to Minneapolis-based Tibetan Education Action encouraged.