Finding enlightenment
by USNISA SUKHSVASTI, Sept 9, 2005
Pratuang Emjaroen looks back on 42 years of art
Bangkok, Thailand -- The painting - Rice Field - stands out among the large canvasses that form part of the retrospective exhibition of artist Pratuang Emjaroen. It is a large block of vivid green, like a field of grass on a sunny day. A strong black line cuts diagonally through the green, shooting up straight out of the canvas to an unknown destination.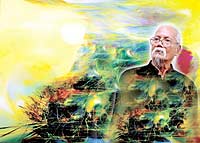 << The artist Pratuang Emjaroen and his painting `Power of Creation', 2004.
The painting is Pratuang Emjaroen as he reaches his 70th year. Gone are the orbs and circles and light sources that formed a major part of his previous work.
''This painting symbolises enlightenment in creativity,'' explains the veteran artist. Even at 70, he cuts a striking figure - tall, with a long moustache, his white hair tied into a tight bun behind his head. He is dressed in his usual black outfit, contrasting with the vibrant colours of his 200-odd canvasses which make up the exhibition.
After 42 years of dedication to his oeuvre, this self-taught artist has finally attained what he calls ''enlightenment'' in his creativity, a position where he is totally free from expectations or attachments in his work. ''Being enlightened means you are able to achieve what you want that is beneficial for society, without expecting anything in return except to be the giver. I can now breathe purity into my work.''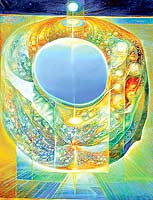 'Divine Way', 1985, oil on canvas, 173-by-135cm. >>
The retrospective shows his journey over the past 42 years, from suffering to freedom. Art has always been an integral part of his spirit. ''As a child, my father loved music, singing and reading stories to us, so for me, art has always been related to something happy and beautiful.'' Yet it took years of trial and error to discover his true path to creativity.
His formal education ended when he was 14 and he had to find odd jobs to help support his family. By the age of 17, he was earning a decent living in an advertising agency, painting film posters. The job gave him access to Western films, which opened up another world for him. It was one particular film about the life of Vincent Van Gogh - Lust for Life - that made him sit up and rethink his life.
''I watched the movie over and over again and suddenly painting advertising posters was no longer the best thing in life. I wanted to create, to live a life of ideals, to be free.''
So at the age of 27, he left his job and literally became a starving artist, leaving his family to fend for themselves and basically relying on the generosity of friends. It took him five years before he knew what he was doing artistically. In a society where artists are recognised and accepted based on their affiliation with specific institutions or art schools, he found himself an outsider and the road extremely tough.
''The only thing that kept me going was the belief in goodness and morality. Whenever you fall out of the straight and narrow, you make mistakes. When you stay within the boundaries of morality, you can increase the light in your spirit until it becomes a huge flame in the process of creativity.''
''Ironically, it was probably thanks to his poverty as well as his lack of formal training that he has managed to create such powerful work,'' says Assoc Prof Sukree Charoensuk, director of Mahidol University's Department of Music, and a long-time friend. ''The hunger and the suffering fired his imagination. For him, life was art and art was life. 'Practice makes perfect' is how to describe him.''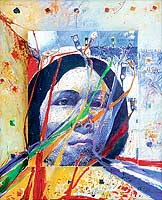 << 'Artist Kamol', 1989, oil on canvas, 85-by-70cm.
His early works from his ''Blue Period'', ranged from the semi-abstract to the surreal and gave a clear indication of the suffering he went through. ''His family sometimes had to go without food, but he would always have paint to work with,'' says Assoc Prof Peerapong Kulpisal of Rajabhat Institute Ban Somdet Chao Phraya.
His first submission to the National Art Competition in 1968 won him a silver medal and a chance to meet the King. ''It lifted my spirits immensely,'' recounts the artist. ''I felt it was a form of acceptance from society.''
His understanding of Buddhism and spirituality form the basis of his work. After his Blue Period, he embarked on his ''Universe'' period that drew inspiration from nature.
''I spent five years staring into the sun at all hours of the day as a form of meditation. I realised that all the colours in the world come from the sun. I understood the importance of colour that gave my work vitality and depth. I was able to create contrast in colour and shadow, with lots of detail.''
For Pratuang, meditation is a crucial part of the creative process. ''Meditation helps you to be aware of everything around you. It also helps me to concentrate on my ability, which then flows from my mind to my arms to my paintbrush and then to the lines, and gives the work vitality and freshness.''
During the time of political turmoil in the 1970s, Pratuang used his work as a form of social commentary, often using figurative and hallucinatory images that seemed to draw inspiration from the surrealist painter Salvador Dali.
Yet it's the image of the globes with the point of light that is the running theme through much of his work. ''Just as [American abstract expressionist painter] Mark Rothko is recognised by square blocks of colour, Pratuang is recognised by the circle, the circle of the universe, the cycle of life and the momentum of movement,'' says Somsak Chaotadapong of the Office of Contemporary Art and Culture.
Today, when he paints, he allows his spirit to blend with nature. ''That's when the creative force comes together automatically. I paint very quickly. When the elements for the creative process are in place, the work attains perfection by itself.''
He admits the much of his inspiration comes from what is happening around him in socieity, good and bad. ''What you have to do is to draw power from the news and information of current world affairs and see what the cause of suffering is. Then you create art as a counter balance for the suffering. The world today is very commercial; nothing is free. But art is free, with no expectations. It can provide support for the whole world.''
His latest work, Tsunami, created this year, is an example of this reflection of suffering: It's a powerful rendition of the destruction of nature's forces. ''It's a memorial to all those lives lost in the disaster and a reminder that we have to take care of our natural environment and not exploit nature.''
The ''Spirit of Art'' exhibition, which marks the artist's 70th birthday, features over 200 works covering a span of 42 years. The exhibition will be held at the Queen's Gallery from October 7, 2005 to January 24, 2006.
Held in cooperation with the Office of Contemporary Art and Culture, Ministry of Culture, the exhibition records each step of his creative path. The works on display include powerful oil paintings, drawings with nature as a theme, and poems, another of his creative outlets in which he weaves songs of journeys with the beauty of life.