Rare Tibetan artifact on display
By Cassie Blombaum, Arizona Daily Wildcat, September 13, 2005
Tucson, Arizona (USA) -- In honor of the Dalai Lama's upcoming Monday visit to Tucson, the Arizona State Museum will temporarily display a Tibetan artifact from its collection, officials said.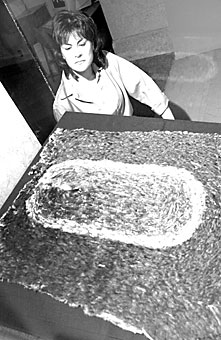 << Photo
Chris Coduto/Arizona Daily Wildcat
Arizona State Museum marketing coordinator Darlene Lizarraga looks at a piece of a robe from the Ninth Panchen Lama, Qujie Nima.
The exhibit, which opened yesterday and will run through Sept. 22, is open to the public and features a rare section from a robe that belonged to the Ninth Panchen Lama, Qujie Nima.
Ken Bacher, a Buddhist and vice president of Arizona Teachings, said the exhibit was purposely timed to coincide with the Dalai Lama's visit.
The item is indeed rare, at least outside of Tibet itself, Bacher said.
"I've never seen a robe like that at all," he said.
Diane Dittemore, the ethnographic's curator at the museum said the Panchen Lama is an important figure in Tibetan culture.
"The Panchen Lama is the second holiest person within the Tibetan Buddhist religion," Dittemore said. "He is the official designator of the dalai."
Dittemore said the unique fur robe was in the possession of the Panchen Lama when he fled his country in 1933 because he believed the 13th Dalai Lama was attempting to poison him.
According to the press release, the Panchen Lama later joined a Yale-sponsored expedition traveling in Tibet that was accompanied by adventurer John A. Logan III. In gratitude for the group's help, the Panchen Lama gave a portion of his fur robe to Logan, Dittemore said.
The museum received the robe section in 1965 from Logan, who was living in Tucson at the time, according to the press release.
Dittemore said she hoped that by publicizing the exhibit, the whereabouts of the other sections of the robe will become known.
The robe was made from about 20,000 sections of fur from a foot of a fox and was hand-stitched by Tibetan girls, which makes the artifact even more interesting, Dittemore said.
The event is also meant to bring people closer to the teachings of Dalai Lama, said Darlene F. Lizarraga, the marketing coordinator for the museum.
"For everyone in the community, it's a way to have a more personal connection to the culture and belief system the Dalai Lama represents," Lizarraga said.
Lizarraga also said seeing the artifact in person can be a powerful experience.
"To be close to an object rather than seeing it in a photo or on TV is a very different thing," Lizarraga said. "The color, detail, size and texture give a much more powerful and immediate viewer experience."
IF YOU GO
Arizona State Museum
1010 E. University Blvd.