When the Lamas danced in Khampagar monastery
ANI, December 5, 2005
Khampaghar, HP (India) -- Every year Khampagar monastery in Himachal Pradesh transforms into a vista of cultural extravaganza. Its courtyard reverberates with the clang of cymbals and the music of trumpets. For, this is the time when dressed in traditional attires, Buddhist monks (Lamas) of the monastery participate in its special dance form-Lama dance.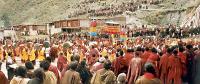 The Lama dance, is a special Buddhist dance performed by monks on ceremonial days. But every year for two weeks it is performed in Khampagar monastery, situated 40 kilometres from Dharamshala. The ancient traditional practice of Lama dance is a part of the Mahakala Puja held recently by the monks of the Drukpa Kagyu School of Tibetan Buddhism.
Tibetan monks hold this dance in high esteem. The lama dance is looked upon as a preservation of the wisdom preached by Buddhist teachings. Moreover, it is supposed to annihilate ego and illusion from within the self. The festival of dances marks the culmination of many days of prayer and worship.
"It is not only the preservation of culture. It's a tradition, to make an effort to preserve the wisdom in Buddhist teachings that makes a person's mind to realise love and compassion not only for the temporary benefit of others but to eliminate the very root of self wihch is ego and illusion," said Chogyal Rinpoche, head monk Khampagar Monastery.
Mahakala is a manifestation of Avalokiteshvara, Buddha of compassion. The main role of Mahakala is to fulfil the four enlightened activities of pacifying interferences, increasing favourable circumstances, gaining control over situations and if all else fails destroying obstacles with wrathful force.
Each dance begins with a homage to the Gods with a deliberately slow movement of feet. The rhythm slowly picks up in the second stage and reaches a feverish pitch towards the end. This year's Puja concluded recently.
Simon Houlton, a tourist was deeply touched by the practice of the monks to retain their traditional culture.
"It's nice to see the Buddhist culture very strong, performing things in a strong way, of retaining their culture, their religious tradition," said Houlton.
The Drukpa ('brug pa) Kagyu School of Tibetan Buddhism was founded by Drupchen Lingrepa Pema Dorje (1128-1188). It is a sub- part of the Kagyu school of Tibetan Buddhism.