The Dalai Lama's Many Auras, at the Fowler Museum in Los Angeles
By KAY LARSON, New York Times, June 11, 2006
New York, USA -- IN a recent portrait of the Dalai Lama, all we see of him is a foot in a blue flip-flop and a flicker of burgundy robe. To view this painting as a prayer for peace might seem a stretch. But not for the artist, Losang Gyatso, who regards the Tibetan leader as a world emissary of healing.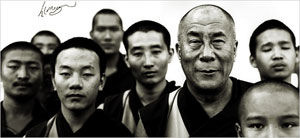 << At the Fowler Museum of Cultural History in Los Angeles: a 1998 photograph by Richard Avedon of the Dalai Lama, in sharp focus, among young monks.
"We believe he is an emanation of Avalokitesvara, who represents compassion," Mr. Gyatso explained, speaking of the deity who is central to Tibet's self-image. Encircling the flip-flop is the mandala, which for Tibetans is a microcosm of the universe, with a deity normally at the hub.
The challenge of portraying peace seems to haunt contributions to "The Missing Peace: Artists Consider the Dalai Lama," an exhibition in Los Angeles of works by 88 people from 25 countries, most of them strangers to the man they are depicting.
Mr. Gyatso, born in Tibet, has at least met his subject. Standing in line for an audience with the Dalai Lama in Dharamsala, India, he recalled, he realized that because most Tibetans in similar circumstances bend their heads in reverence, they see only his foot.
But what a foot. For one thing, it is the living reminder of an ancient lineage of footprints and handprints impressed into cliff walls and caves by Buddhist spiritual masters and adepts, who spend lifetimes meditating in the mountains.
"His Holiness is very casual and is often seen wearing sandals and flip-flops," said Mr. Gyatso, who put in two decades as an advertising art director in New York and now paints in Colorado. "It is an indication of the times for us as Tibetan refugees, the predicament and its difficulties. I very much wanted to capture the sense that he is walking on the earth right now."
For "The Missing Peace," which opens at the U.C.L.A. Fowler Museum of Cultural History on Sunday, contemporary artists stretched themselves to fulfill an unusual assignment: tackling a richly detailed worldview that has few correlates in the West.
"We live in a very deep, very complex interconnectedness," the Dalai Lama has said. In his talks, he speaks of the suffering caused by clinging to self, and the antidote, which is compassion. He has warned that "these mental transformations take time and are not easy."
Asked to consider the Dalai Lama, some artists see his feet; some his face. Some see nonviolence and environmental activism, or moral discipline. Others see themselves, and their own agendas and issues.
The portraits, solicited over the last two years by the Committee of 100 for Tibet, the Dalai Lama Foundation and the curator Randy Rosenberg, range from the literal to the metaphoric.
In 1998 Richard Avedon photographed the Dalai Lama among his monks, rising ever so slightly over them like Mount Everest among the high peaks. Last year, Chuck Close met him briefly in a New York hotel room and, in a large-format Polaroid photograph (remade for the show as a digital pigment print), caught a familiar half-smile in formation. Seeking an emblematic image, the Swiss artist Sylvie Fleury borrowed his shoes and photographed their "aura."
The rest of the works run the gamut of installations, paintings, sculpture, videos, cartoons, performance, music, prints, films and tapestries. Most of the artists would be at home in the international biennial circuits, and some are only peripherally spiritual.
Bill Viola and Kira Perov, who traveled last year to Dharamsala for a private interview, have created "Bodies of Light," a video installation, and, in the entrance room of the exhibition, a video of the Dalai Lama praying for the welfare of all beings. He says in part: "As long as space endures, and for as long as living beings remain, until then may I too abide, to dispel the misery of the world."
The artist Katarina Wong, who has a master's degree in theology, made casts of fingertips of friends and family members for the show, arranging them in patterns to express the flow of people's lives and their interconnectedness over time and space.
Richard Gere is represented by his photographs of people of the Himalayas; Laurie Anderson, in an installation projecting images of herself and her dog, references 9/11 and her new habit of looking up at the sky.
The performance artist Marina Abramovic was choreographing hundreds of monks for a festival of sacred music in India in the early 1980's when she met the Dalai Lama and began filming him. "It was so easy to meet the Dalai Lama in those days," she said in a telephone interview. "Today it is impossible. He left a very deep impression." Her wall-size video installation, "At the Waterfall," displays more than 100 heads of meditating Tibetan monks and nuns murmuring mantras. The voices merge like a silver river, and visitors, sitting in deck chairs, can let the cascade pour over them.
"His spirit is elevated," Ms. Abramovic said. "It helps in my work, to elevate the spirit of the audience and myself." Most important for her, she says, is his generosity and kindness. "It brings you to tears just about every time."
The exhibition is loosely organized around topics: the Tibetan land and people, compassion, enlightenment, human rights, peace and nonviolence, interdependence and impermanence.
The artists bring their personal histories and personalities to the task. Tri Huu Luu, who escaped Vietnam during the war with Cambodia, was raised a Buddhist but discovered Buddhism's importance to him only after reaching the United States. In photographing the backs of the heads of monks and nuns, he conveys their detachment from the individuality of a face and identity, and an indifference to beauty or success, as well as their commonality.
Another Vietnamese artist, Binh Danh, imprints photographs onto plant leaves, registering ephemeral images of his family, soldiers and people lost to death.
The moody spiritualism in a six-foot-tall print of a butterfly chrysalis by the British-born artist Adam Fuss, in stark translucent white as though suffused by inner light, seemingly asks viewers to measure their own capacity for transfiguration.
A wall of charts and texts by the California artists Newton and Helen Harrison documents ecological disasters at the source of major rivers that run from the Himalayas. Practicing what they call "eco-systemic thinking" — "You see a whole system, internalize a system and speak for its well-being," Mr. Harrison said — they lament the million square miles of newly made desert in Tibet, and the $54 billion in timber profits that have flowed into China.
Their project, titled "Tibet Is the High Ground," is intended to raise awareness in the countries downriver, and to form a political entity that will force China to open an environmental dialogue.
The couple don't consider themselves Buddhists. "I'm not an 'ist,' " Mr. Harrison said in an interview at the artists' hillside studio-bungalow complex in Davis, Calif.
Their project gained momentum after they learned of the Dalai Lama's plan for a Peace Park in the Himalayas. They wrote him a letter and he responded at great length; now his teachings inform their projects.
Up the California coast, in Half Moon Bay, the filmmakers and designers David and Hi-Jin Hodge recounted how they discovered itinerant Tibetan monks making a sand mandala in a tent in town. "I said, 'What's a mandala?' " Mr. Hodge recalled.
Mesmerized by the monks' exacting application of streams of colored sand through tiny funnels, they returned every day. At the end of 10 days of creating exquisite beauty, the monks dragged a brush through the sand and returned it to the ocean, stunning onlookers. "It was arresting because, being artists, people who make things, to spend all that time and say, 'O.K., let's burn it ' " Mr. Hodge said.
"We were struggling with impermanent things in our own life," Ms. Hodge said. They had just put Mr. Hodge's mother in a home for the elderly, she explained, and were getting rid of a lot of things she had been attached to. "We thought, why don't we interview other people about the topic of impermanence? It was a way of researching."
The result is their first video installation. They started off intending to conduct just a few interviews but ended up with 122. As word of the project spread, a maharaja showed up at their door; his voice and image now join that of a Jamaican window washer, a Web master, a 12-year-old boy, a Trappist monk, an ex-gang member, a Presbyterian minister and others on 12 small video iPods perched atop tripods arranged in a circle.
Mr. Hodge, a jazz musician, said he was deeply saddened by the death of the saxophonist Stan Getz, who was a friend. "Why does it have to be this way?" he asked at the time. His project has helped him become more accepting — a message, he said, "you could apply to everyday life."
Or perhaps everyday life itself is the message, brought to new awareness.